In a recent Instagram poll, homeowners asked us for ideas on how to improve the aesthetic of their standard, center hall Colonials. Because of the building's simplicity, this home style is highly adaptable to myriad improvements, and today we will share some suggestions to help make an ordinary exterior crisper and more timeless in its appeal.
The simple, center hall Colonial is a style that originated when early colonists arrived in North America and became popular because it could be built quickly to protect settlers from outside elements. Typically, the building is rectangular and symmetrical, with a central front door and a gabled roof – the primary line of support for the house. As is often the case with homes built for "speed," (then, and today), their exteriors frequently lack interesting details or geometric layers, and, like a novel with underdeveloped characters, the architecture sometimes needs an infusion of depth and substance. These improvements, large and small, can make all the difference in creating a richer visual experience.
When pursuing an exterior upgrade, one of the first things to consider is the quality of moldings around the home's windows and doors. Re-detailing corner boards and upgrading plain stock head casing on windows and doors will help create textural shadows and provide a three-dimensional quality to the home's façade. Next, reviewing items one can touch and feel, such as the front storm door and surrounding hardware is always important. If, for example, the door is aluminum, we recommend replacing it with a classic wooden storm door with a multi-lite glass panel and oil rubbed bronze hardware. Mounting antique copper lanterns on either side of the door and adding a lovely doorknocker will change what once felt like a generic entryway to something time-honored and welcoming. Additionally, if there are stairs leading to the doorway, we suggest adding chunky wood railings on either side or perhaps just old granite steps to help define the entryway in a welcoming manner.
Next, think about replacing exterior materials that appear less than authentic including aluminum gutters, asphalt roofing, or vinyl siding. If the roof is asphalt, we recommend upgrading it to wood. In addition to its aesthetic appeal, wood roofing can withstand 110 mph winds and resist outdoor elements (like hail) better than asphalt. We also suggest replacing aluminum gutters with either wood or fiberglass that takes on the profile of wood but lasts forever. Then, depending on location and the homeowner's taste, replace vinyl siding with classic clapboard or cedar shingles. We also suggest introducing authentic shutters with proper pins and holdbacks to all windows, ensuring they are correctly sized and mounted. Finally, adding appropriately scaled window boxes will add a final touch of character and dimension to what was a flat façade.
After assessing meaningful ways to add depth to the façade and replacing inauthentic materials, it's helpful to step back from the house to see what other details could help create a timeless exterior story. Sometimes, the additional upgrades are relatively simple, requiring no long-term renovation disruption. For example, without much effort, painting the existing chimney white with a black top could help accentuate it on the roof plane and provide some interesting verticality. Similarly, introducing cobblestone edging to a driveway or upgrading the scale and size of property coach lights are relatively easy but visually significant improvements. Other times, however, the upgrades require a bit more commitment. If the house has a garage, one enhancement we highly recommend is replacing standard garage doors with classic carriage-style doors. Another impactful upgrade is re-painting the body of the house. We suggest a favorite New England color combination of white with Essex green shutters—a classic palette that establishes a sense of symmetry and balance between the house and shutters.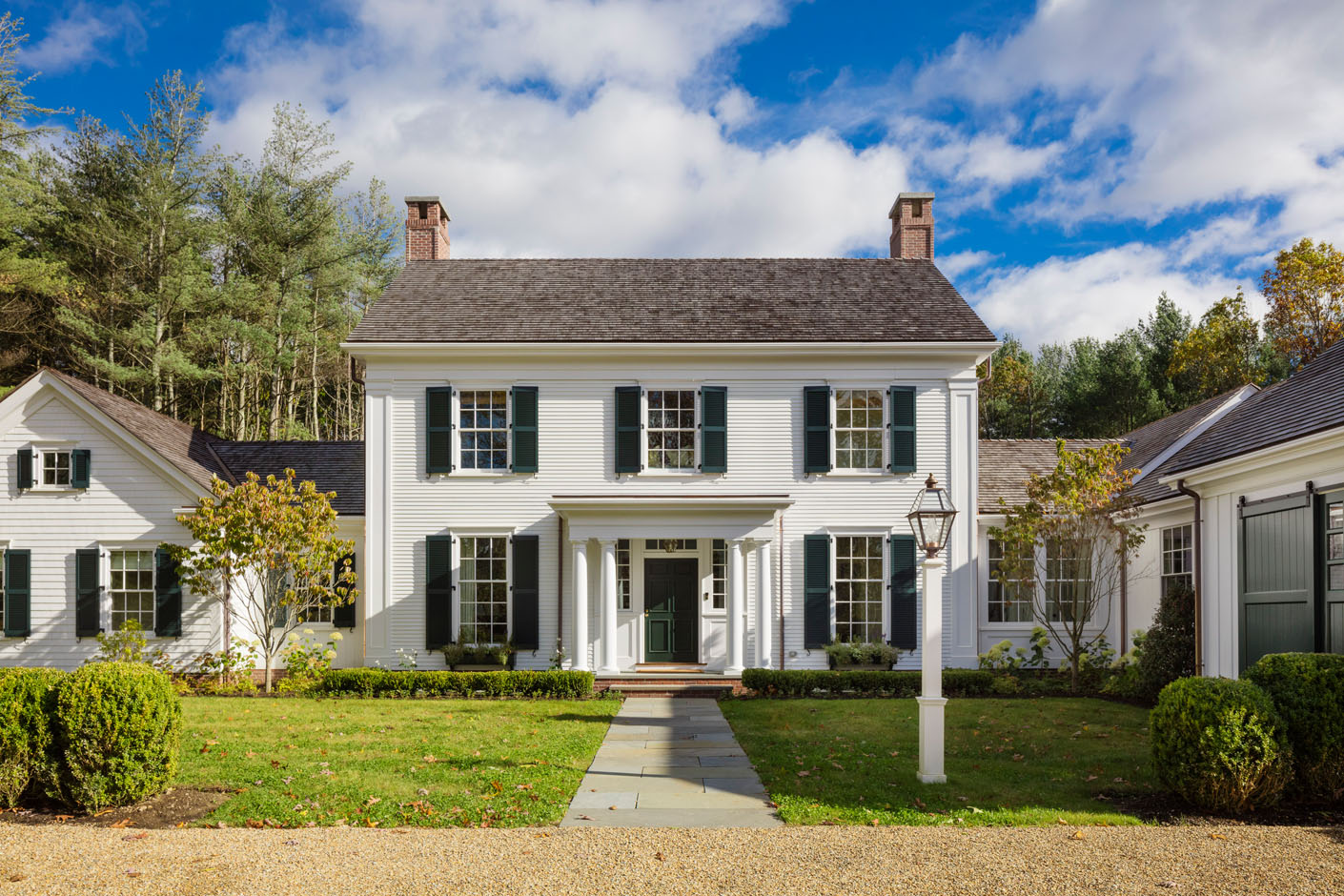 Considered individually, each of these recommendations may appear subtle, but together, the curated details are highly impactful. Without changing the mass or scale of the architecture, each upgrade aligns purposefully to create a more visually appealing and authentic aesthetic. We believe in the importance of carrying architectural improvements through to the smallest details. For those seeking a vision for their center hall Colonials, we hope these recommendations provide meaningful upgrade inspiration!
Watch Patrick provide sketched suggestions for Feature House Friday Contest Winner, @g_groleau's Colonial center hall in Quebec, Canada.