A building's exterior shutters were originally designed for functionality. Today, however, their role is most often visual – like an accessory for the home. When shutters are designed as part of the overall exterior, they play an important role in establishing the correct solid to void relationship on each façade. The shutters are considered part of the window ensemble – another layer of information to the home's façade and an architectural detail that pulls everything together.
Originally, shutters were designed to control light, provide privacy, and help protect a home from the outside elements. Historians believe shutters were first used in Ancient Greece and were constructed of marble with fixed louvers. The use of shutters quickly spread, and the material of choice became wood.
Solid paneled shutters were called "shutters" and the louvered shutters we see today with angled horizontal slats were called "blinds." In the late 1700s, louvered shutters came into use and were particularly favored in warmer climates. Operable with functional hinges, they could easily swing closed to minimize heat, while still allowing air to circulate into the house. Louvers added another layer of functionality: by pointing downward, they help shed water away from the home during rainstorms.
By the early 1800s, many windows were fitted with exterior shutters, which were typically painted either dark green, or a shade of green that weathered to a deeper hue. Shutters were opened and closed daily to provide shade or to protect from oncoming storms (storm windows had not yet been invented). When closed, these shutters fully covered the window and were as important then as window screens are today.
Today, shutters remain a classic fixture in historic homes and are considered an integral part of many window designs. Since shutters are rarely used for their original function, many homes have turned to decorative, inoperable shutters. We strongly believe in using operable shutters for historical accuracy. Based on traditional architecture, we typically size our shutters to fully cover and accept the window opening and match the vertical dimension of the window's frame.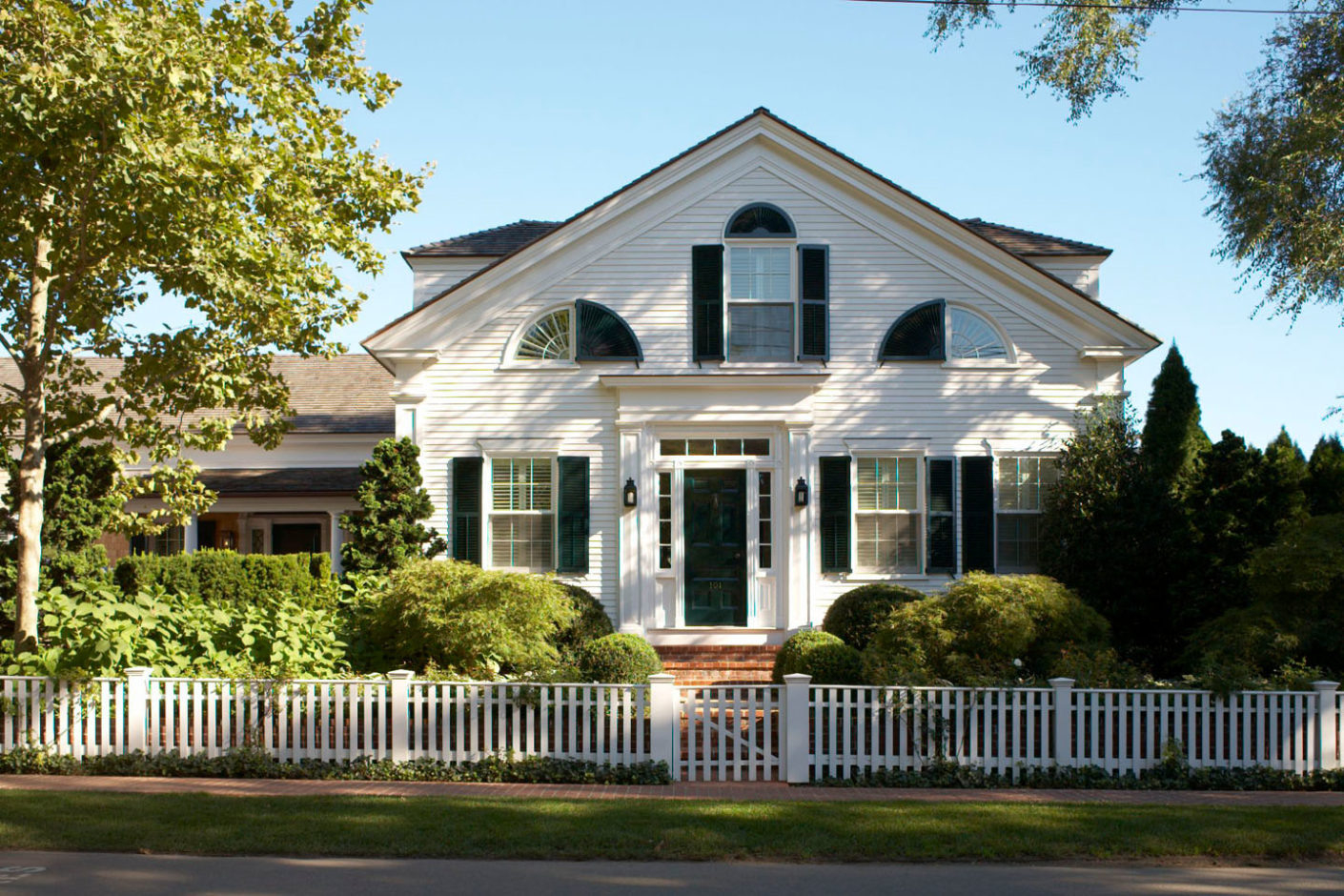 Exterior shutter hardware – including proper pins and holdbacks – provides aesthetic authenticity to operable shutters. We use functional hinges (typically New York Style) and appropriate holdbacks (shutter dogs) on all of our shutter installations. In addition to authenticity, mounting the shutters away from the siding builds space and dimension for visually appealing shadow lines.
Acorn Manufacturing Company is a fantastic manufacturer and distributor of forged iron hardware, and they are local, in Mansfield, MA.
Exterior shutters have evolved over the centuries – both in function and materials. Today, PVC shutters are accepted because they are durable, easy to maintain, and appear historically accurate. While shutters no longer play the functional role they once did, they continue to provide another layer of information to the façade of each home: they are a classic accent that matters.