How can a homeowner maximize a more traditional ceiling height?  What should be kept in mind when renovating a home with ceilings that are 8' or lower?  Patrick answers these often-asked questions in today's blog.
Why do we see lower ceilings in older architecture?
Historically in New England, there's a real evolution of ceilings. In antique homes of the 1700s, ceilings were typically just 7′ tall. Those homes with low ceilings and small rooms were structured so they could be easily heated by a fireplace. As heating systems and insulation improved, the height of the ceiling rose to the point where, today, depending on style, in new construction homes, you can see ceilings of 9′ or 10′ or more. But in a home with 8′ ceilings or less, there's a ton of warmth and character, and we have tricks to make those spaces seem more voluminous than they actually are.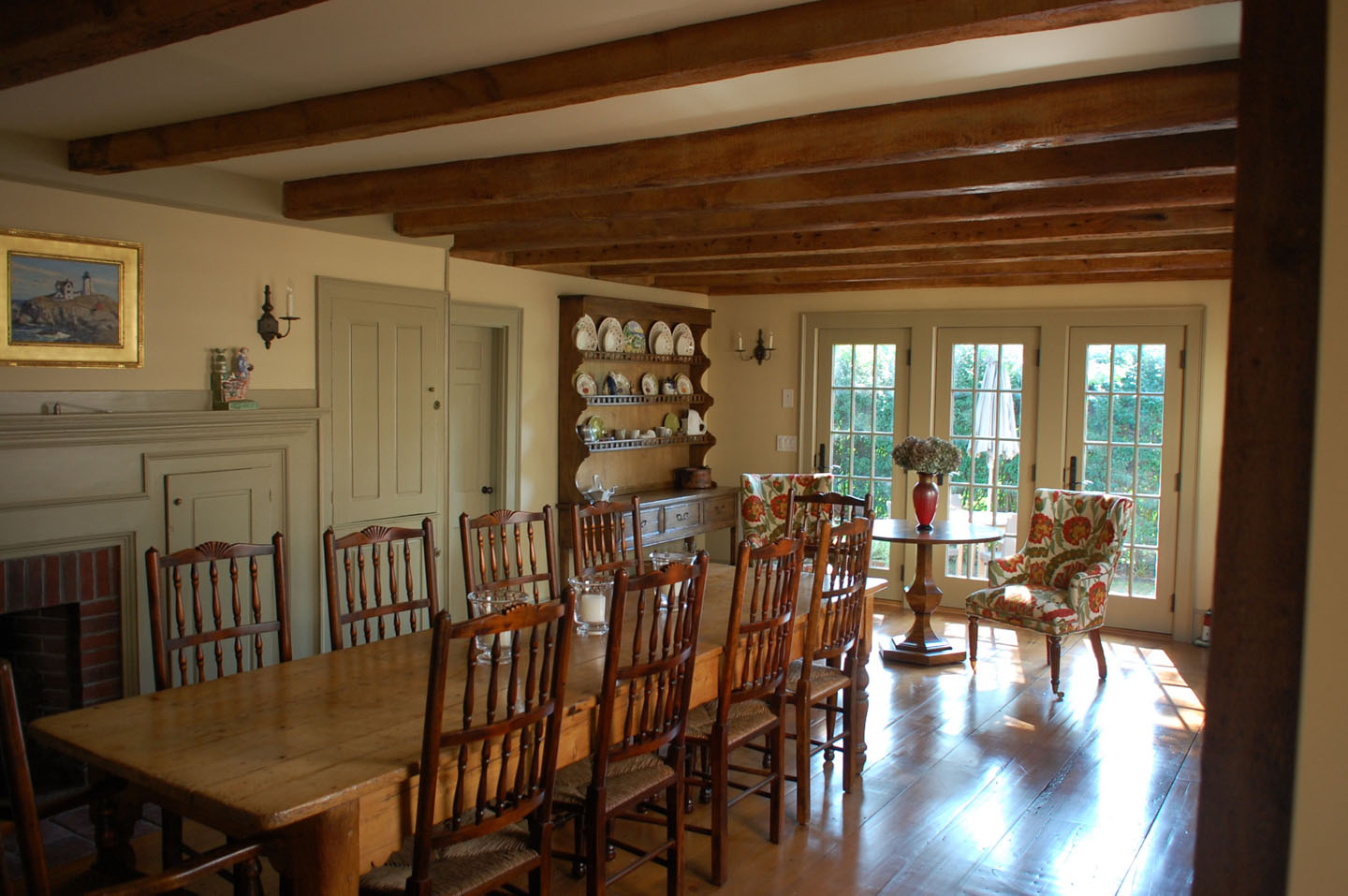 What do you do when a client has a house with low ceilings?
First of all, we can't think about ceiling height in a vacuum—it all comes down to scale.  A lot of times, if a client comes to us with a cape they might be considering tearing down, we can show them there's a real opportunity to keep the existing property, vault that ceiling in the main living area, and then build wings onto the sides of the house.  We actually do that in some of our new construction projects as well—not just renovations.  In those cases, we might choose to use clerestory windows across the back of the house to flood the space with light and stretch new programming out horizontally with vaulted ceilings in the new wings if the clients like.  In essence, we take away the original 2nd story to gain more volume in the space, which can be done very effectively.  And in doing so, we can preserve a charming exterior structure and also achieve the interior feel a client might be looking for.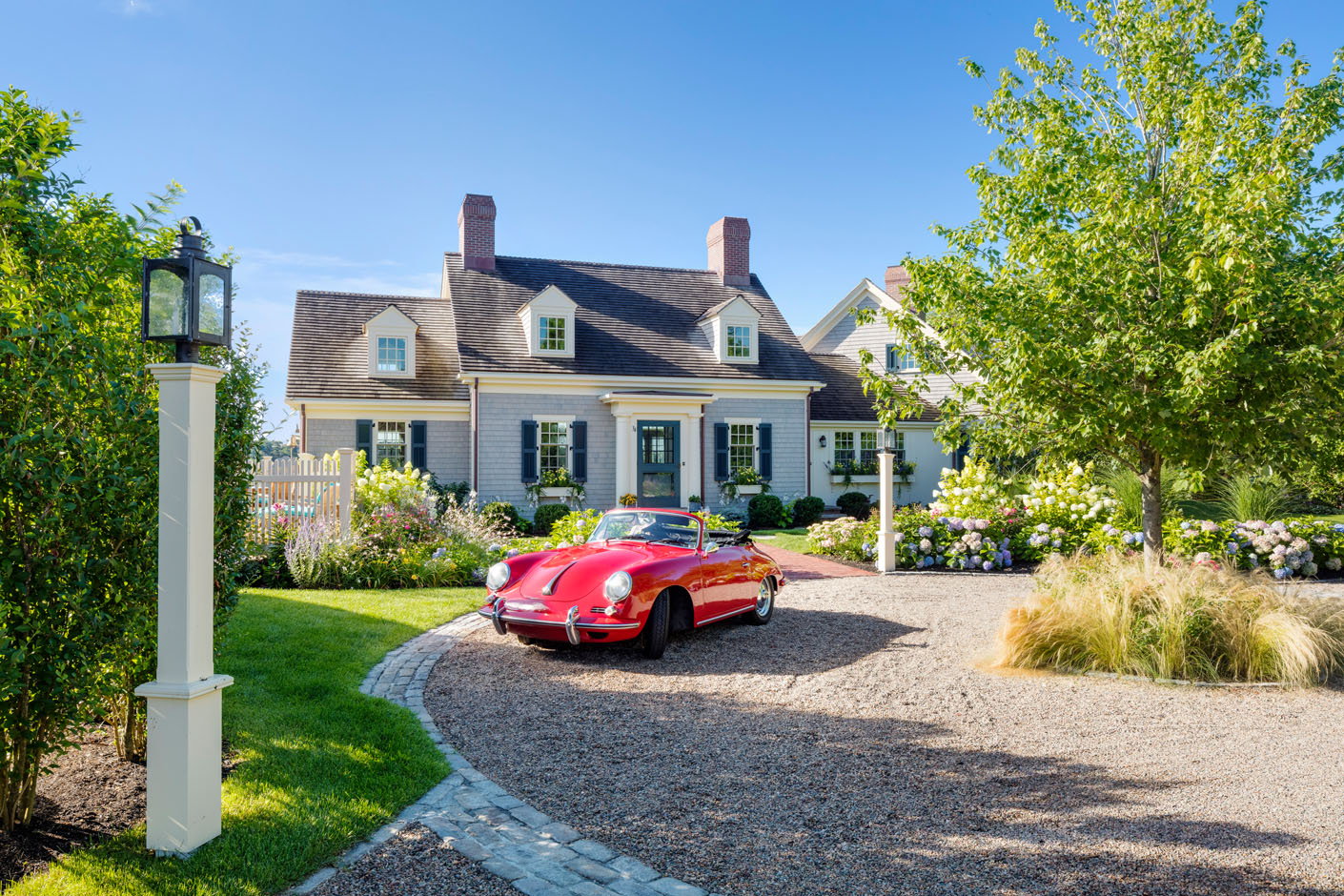 What if you want to keep the space above, though?  Are there any other options?
Sure.  Sometimes we think about stepping the floor joists down in order to capture additional height.  The beauty there is that we're not changing the exterior of the structure, and we're capturing extra space.  From the outside, once the work is complete and the ceiling is higher, the home will read just as it did before, so it's a great tactic when clients want to preserve the look of the home from the street.  It's funny—every time I do renovations on my own house, I use this trick.  My suburban home is a 1930s Royal Barry Wills, and if you can believe it, the original ceilings were only 7'3″.  After renovating, we have stepped down floors and heightened ceilings most everywhere on the first floor—I even did a combination of lowered floor and vaulted ceiling in the breakfast area.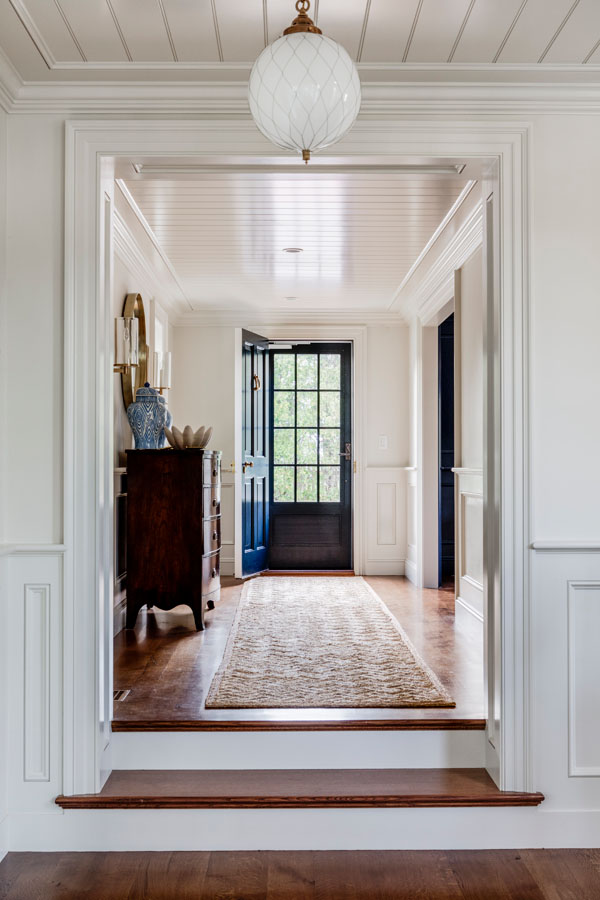 Most of your new construction houses include architectural ingredients on the ceilings to establish character.  Sometimes we see beams or timbers along with the crowns.  Can this be accomplished with an 8' ceiling?
Absolutely.  All you have to do is reduce the depth of the beam or timber and you can have a similar result.  On an 8′ ceiling, we can drop a 6″ beam, and put crown molding around it.  There, we're careful to use a smaller crown so we're only expressing 3″ of beam.  When you look up at that ceiling, you see the molding, where the bottom of the beam is at 7'6″ and the top of the ceiling is at 8′.  It's really doable, and it gives this wonderful rhythm as you walk through, where the ceiling is giving the articulation, not the walls.
I will say, though, in a home with 7'6″ ceilings, we really don't want to articulate the plane at all.  The goal, in that case, is always to ghost it out—try to make it disappear.  In those instances, we make the walls work harder—we'll add extra millwork, a fireplace, built-in bookcases, maybe a glass wall out to a view—anything possible to call attention to the wall or the outside and avoid the ceiling.
In a home that's 7'6" or below, there are other tricks to use, too.  The scale of the furnishings there becomes very important – larger furniture will make that space seem small.  And we'll stick to wall sconces and table lamps instead of recessed lights—choices that will place your eye elsewhere.
Thinking about renovating your home with a lower ceiling?  Contact us to learn how we might create more volume while maintaining your home's unique character.  In the interim, we invite you to find meaningful inspiration in our portfolio.