At Patrick Ahearn Architect, we hold ourselves to the highest standards of quality architecture and meticulously crafted homes. A piece of that quality and craftsmanship resides in our approach to doors. From the front door and family entrance through pocket doors, French doors, Nana doors, and the not-so-lowly solid paneled leaves and screens, there are recurring executions we use that give a home a sense of presence and elevated finish. Below, our approach to timeless doors.
Heft is best.
The first thing you feel in a home is typically the weight of a door, and heavier is better. Ideally, we design with 1" or ¾" width doors so they have some heft and indicate an immediate sense of quality. While a solid wood door would have been used in the not-so-distant past, we now typically call for solid MDF doors, which take paint well and unlike wood won't expand and contract. In addition, we typically place three hinges at minimum on these doors—and depending on ceiling height may specify more. All of our doors are designed with significant casings in order to communicate the quality and substance of the overall house.
Consider panels to direct character and theme.
We often receive questions about door selection—how many panels to use and what styles we prefer. In truth, panel selection all depends on the character and theme of a property. On a historic renovation, we might use a raised 6-panel door. In a Federal Revival, we may specify 5 wider panels. In updated shingle-style properties, we often use 2-panel doors with a bead. The style of the home very much dictates door paneling.
Prescribe an elevated sense of procession with French doors.
If we seek to exaggerate the significance of a particular room in a home, we will insert French doors to indicate this layer of importance. For example, in a primary bedroom we may use solid French doors to pass from a common hallway into a semi-private preassembly foyer to designate the arrival at a more notable space. The sense of procession indicated by the architecture allows for a heightened sense of space.
In addition, we often make use of central spines throughout our homes, which are filled with light and locations to linger. We encourage movement throughout these spines via a series of French doors and cased openings, which all but call visitors to pass through. On lower floors, when proceeding into a library or office, for example, these French doors may be glass-paned, resolving in an alluring element such as a fireplace or view to pull visitors through the property.
Beyond the spine, however, we often make use of French doors when creating outdoor living spaces. When moving from the indoors to the outside, our executions often involve a series of glass-paned French doors to encourage visitors out to a covered porch or onto a seasonal patio.
Consider both patterning and views.
When thinking about glass panes on a French door, especially those opening to the outside, we consider a variety of factors. The width of the leaf itself, the scale of the property, and the views which lie on the exterior each must be thoughtfully considered for the ideal execution. For example, when designing coastal properties with water views, we may exaggerate the scale of the mullions and muntins to minimize patterning and preserve the vista. Other times we'll use an implied transom within the door itself, with divisions on the top and a large pane on the bottom which ties into the architecture and is a little more fluid in terms of the glazing pattern.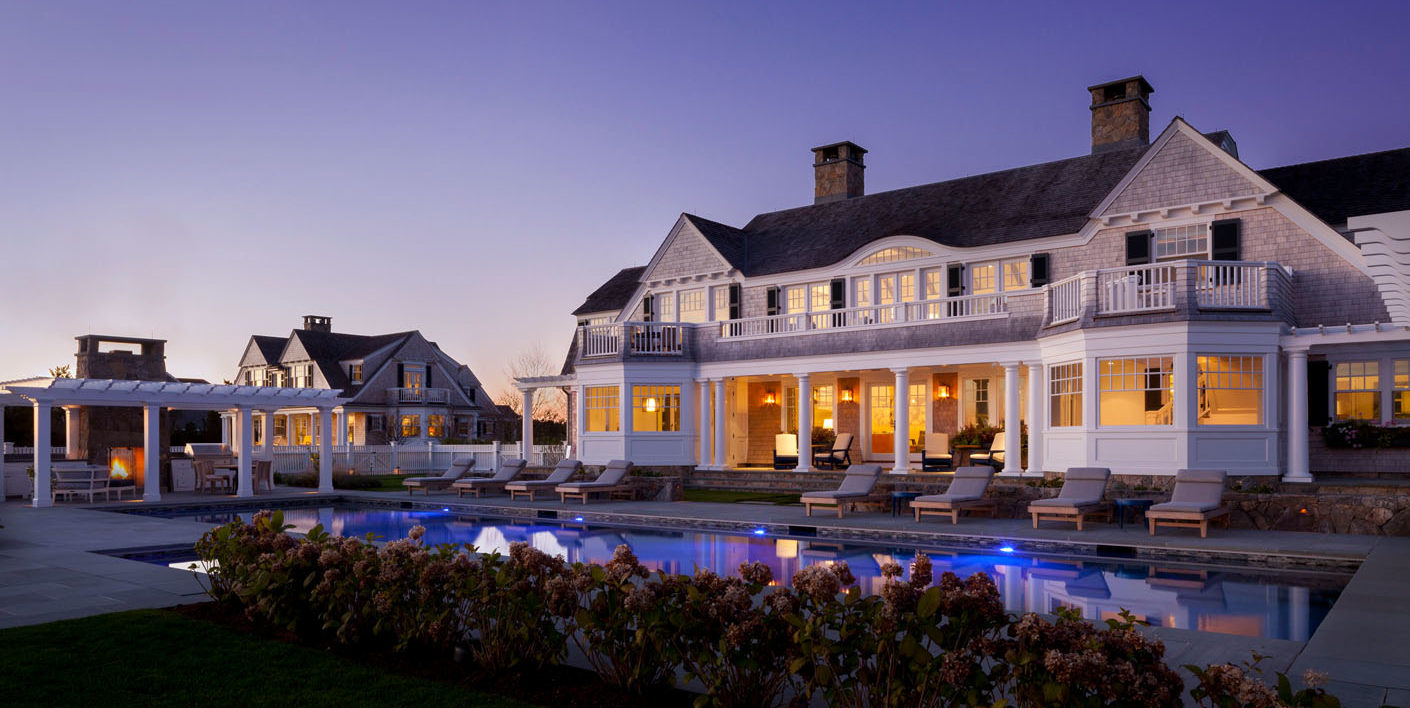 Allow for seamless indoor/outdoor living with disappearing doors.
In order to maximize an opening and allow for seamless indoor/outdoor living, we often specify disappearing doors. In our architecture those are typically either Nana doors or exterior pocket doors; while other semi-custom architectural solutions exist that are almost frameless, these two selections are able to best handle our New England climate. Nana doors fold away to either the inside or outside and allow for an unobstructed passageway. Similarly, totally disappearing pocket doors can open a space in dramatic fashion, and as long as the exterior wall is fattened to accommodate those doors, the desired result can be achieved. We often use these executions out to a covered porch, or in cabanas or barns to encourage an ideal indoor/outdoor experience.
Design for weather, whatever the season.
Especially in our home region of New England, storm doors are a fact of life, and we often make them custom to suit a client's build. For those seeking a custom option without our teams of artisans on hand, an excellent source is Seaport Shutter Company, whose wooden screen and storm doors are an excellent complement to our timeless architecture. Another option we rely upon is the Brosco Easy Change door. Made of all wood and wood composite materials, these doors contain a simple locking device to secure storm and screen inserts which can be swapped based on season.