Throughout history, fire has been used to warm the air, provide light, and even cook. As part of our timeless architecture, we work to design fire features as part of outdoor living spaces to be enjoyed year-round. Fire pits and fireplaces are among our clients' most frequent requests and it's easy to understand why — they provide functionality, beauty, and a reason to gather outdoors. Learn our approach below.
Location
When it comes to locating a fire pit or fireplace, we consider the placement as part of the greater outdoor program. Space permitting, we think about the fire feature as its own destination within a greater patio or terrace. A comprehensive program might include an outdoor kitchen and dining area, a spa or pool and cabana, and a separate seating area for gathering around a fire. The fire's glow is a verified magnet and will ensure that part of the patio will be enlivened with wine, laughter, and friends or skewers, marshmallows, and family.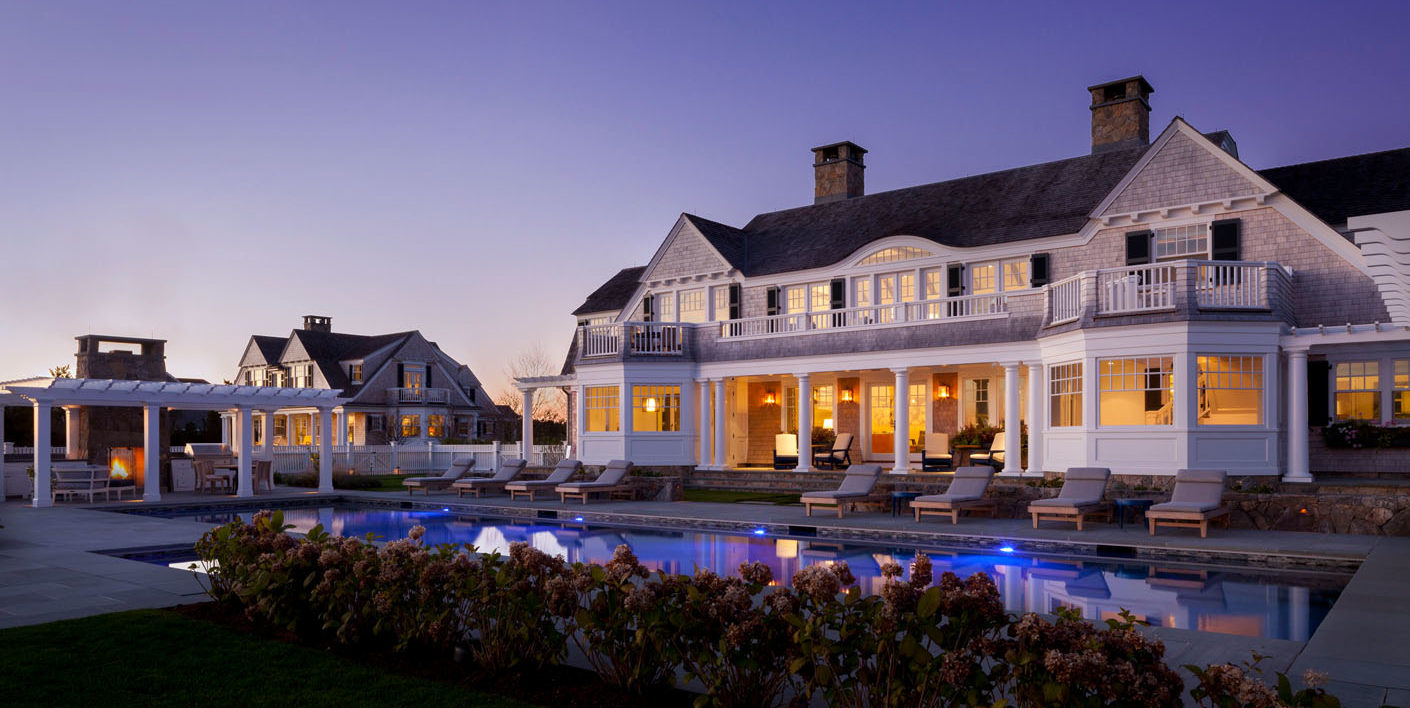 Fire pit or fireplace
Whether we recommend a fire pit or fireplace has to do with the scale of the home and the character and theme of the house. Beside a rustic barn a fire pit usually feels most authentic. To complement an impressive estate, an oversized fireplace with a substantial stone chimney may be more appropriate. For safety reasons, in a covered patio or three-season porch a fireplace must be specified. Increasingly, our clients request a fireplace in these indoor/outdoor living spaces to add an element of romanticism and utility, extending their use beyond warm-weather seasons and making them go-to destinations on the properties.
Fuel
Traditionally, the wood-burning fireplace or fire pit is seen outdoors. While some may consider wafting smoke a detriment, in warmer months that same smoke can keep mosquitos at bay. When placing a wood-burning fire feature we work to design a nearby spot for storing firewood to simplify use. Today, gas fire pits are exceptionally popular. Like their indoor brethren, exterior gas fire pits require little maintenance or cleanup, and while the unmistakable aroma of burning wood is absent, the fire's glow and warmth persists.
Materials
Our fire features are most often custom-built for each home, and as such are constructed of materials which mirror and complement other elements seen on the property. Fieldstone and flagstone are typically seen along with bluestone and brick construction. In lieu of freestanding fire pits, some clients opt for gas fire tables with a modern appeal. Commercially available and aesthetically pleasing, our go-to fire tables are made of a mixture of cement and sand and connect directly to a home's gas line for a bespoke appearance. Some even offer the option to fuel via propane, hiding the tank within the body of the table.