Browsing our portfolio of work, a timeless color palette emerges for both interiors and exteriors alike. We've already shared the secret of Ahearn White.  Today, we venture outside the front door to reveal our tried and true selections for exterior paint.
Choosing exterior paint colors can be a daunting experience—with so many options, it's hard to know where to begin. While we don't follow a prescriptive rule for exterior paints, there are colors we turn to time and again for a look that endures.  Below are some of our go-to choices.
Highlighting architectural accents
Whether an exterior features cedar shingles, clapboard or brick, our preferred accent color for shutters, window boxes, and doors is typically Benjamin Moore's Essex Green HC-188.  Warmer and richer than stark black with plenty of deep color contrast, Essex Green was originally created to commemorate the bicentennial of the United States.  We find the color as relevant today as it was at its inception, and have used it regularly since it was launched.  The marriage of Essex Green with white trim gracefully spotlights a home's details and character from the curb.
In addition to Essex Green, we are increasingly doing projects with dark blue accents.  In those cases we turn to Benjamin Moore's Polo Blue 2062-10 to achieve a similar result in a different hue.  Comparable in depth to Essex Green, Polo Blue offers a variation on the theme while still providing a rich, enduring color to highlight our architecture.  When using Polo Blue, we keep garage doors and informal entry doors white, and consider either painting the front door or going with a classic mahogany varnish.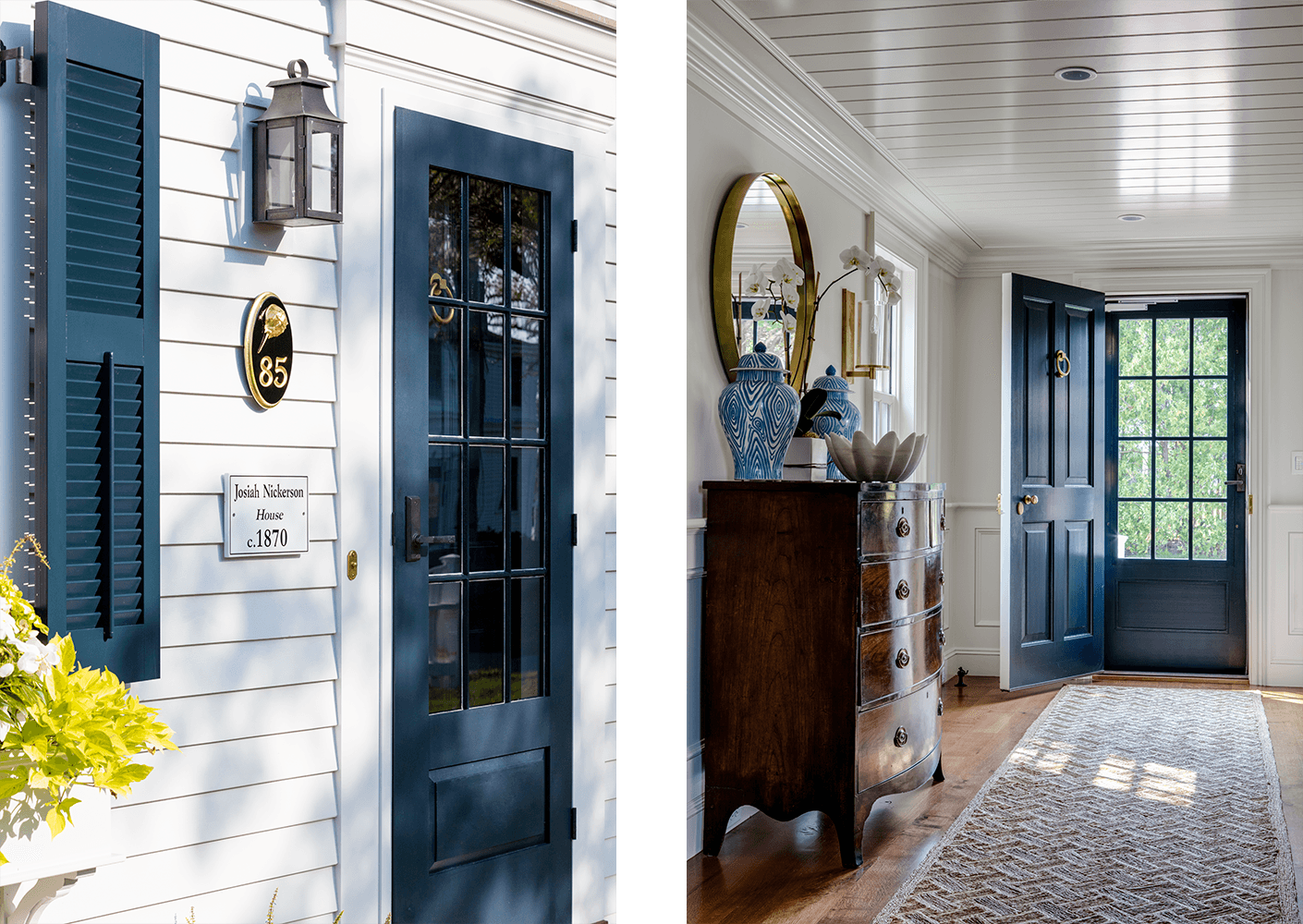 A special note about coastal shingle-style properties
Thanks to salty ocean air, our cedar shingled homes along the water weather to a quintessential New England grey. These properties typically feature trim that's painted grey instead of white, which relates to both preference and approval processes. Particularly on Martha's Vineyard, the conservation commission does not permit white trim on a cedar-shingled property. While available, cedar trim would weather to more of a farmstead look than we typically intend. For these reasons, our designated trim color on a cedar shingled home is Benjamin Moore's Abalone 2108-60. A neutral grey that complements cedar shingles when they're first installed and as they weather, Abalone gives the intended delineation for the trim, appropriately sets off Essex Green and Polo Blue, and meets the approval of conservation commissions—all wins in our book.
Conservation commissions aside, our color choices are flexible. These selections are always rooted in both the character of the property and our expertise. For example, in a recent build on Cow Bay, the goal was to achieve a recessive rural style property atypical of what might otherwise be found in Edgartown. Architectural detail and character including shutters, window boxes, and trim were all layered on the outside of the home, and all of those elements (except for the shutters) were painted Abalone to achieve a relaxed, rural feel.
White
When considering a clapboard property, uniform white siding and trim allow for a cohesive architectural presentation. Painted all white, the home gives an illusion of being larger than it's footprint as a result of consistent color throughout. Three exterior whites we reach for are Benjamin Moore's Super White PM-1, Chantilly Lace OC-65, and Simply White OC-117.  Whites allow for Essex Green or Polo Blue accents, and permit consideration of a front door in Cottage Red HC-184 with bright brass hardware.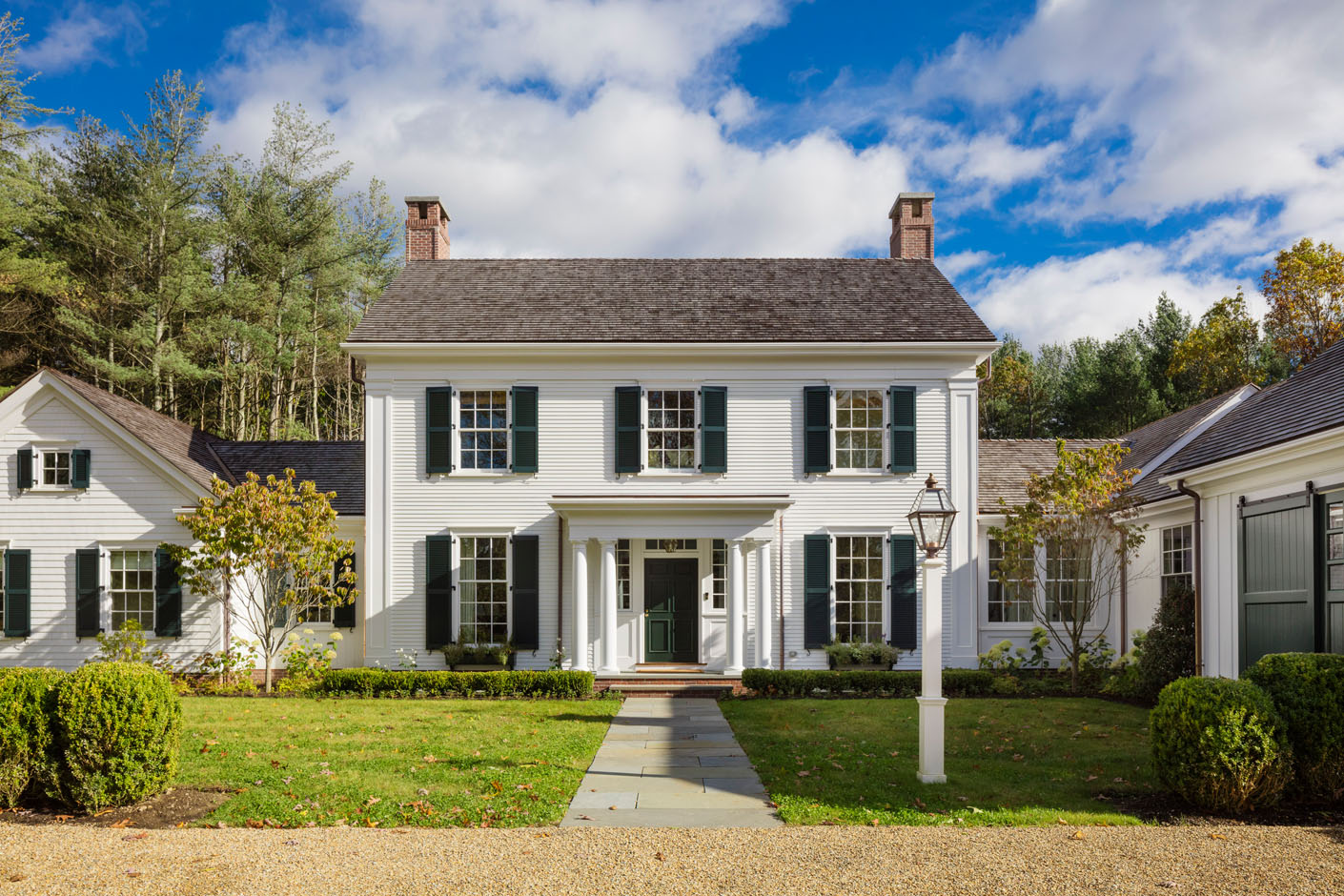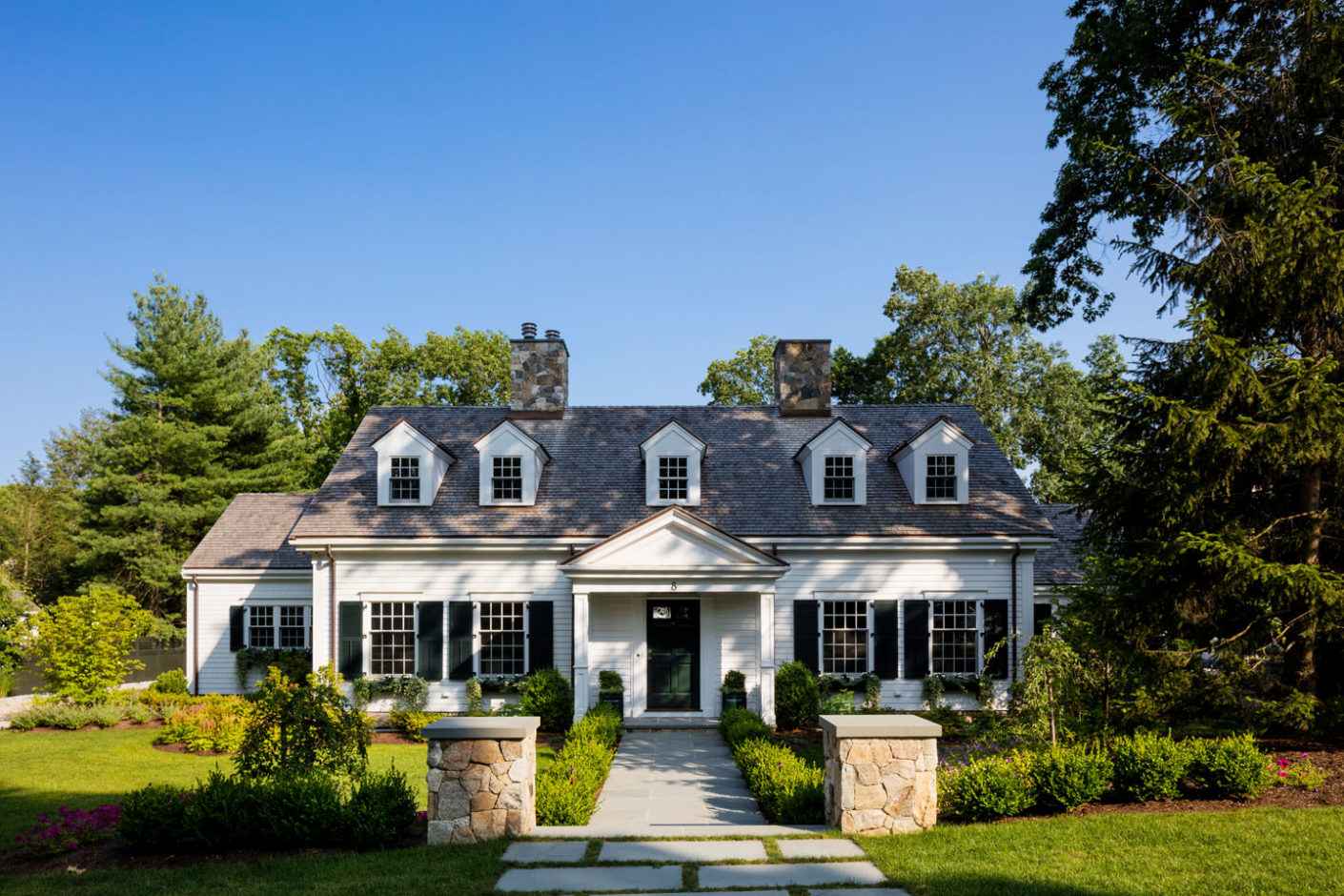 Options with brick
Historically, Federal-style brick row houses like so many found on Boston's Beacon Hill feature white trim and black accents. Much of that color combination carries over into brick residences in suburban areas today. We see opportunity for brick, however, beyond just black and white. For a less institutional approach on a brick house, we may opt to paint the trim Benjamin Moore's Greenmount Silk HC-3, a creamy white with just a hint of yellow.  Together with Essex Green shutters, Greenmount Silk couples with a brick facade for a warmer take on a historic colorway.
Click to view our portfolio for even more examples of our time-tested exterior color choices as you consider colorways for your own property.