We routinely receive questions about what makes the best window choice for a particular project or property.  While there are seemingly endless options from which to choose, window selection primarily comes down to architectural style and scale.  The patterning found within windows in between panes and panels ultimately helps define the theme of a home and gives clues to the period within which it may have been built.  Here, our short window primer.
Twelve panes over twelve?  Six over one?  Four over four or two over one?  With so many options, where should a homeowner begin?  It turns out that the process of selecting windows doesn't have to be daunting—a reflection upon history gives us tried-and-true guidelines.
In antique homes from the 1700s, windows with multiple small panes are typically found.  As a result of glass being difficult to fabricate in large sizes at that time, window patterns of many divided panes are featured. Twelve over twelve panes or even twelve over sixteen are often seen on double-hung windows in these structures. When we renovate antique homes or build new homes in the style of antique architecture, we will select windows with smaller panes and significant muntin work as a key element of character for the house.  When replacing antique windows, major fabricators like Pella and Marvin now make exceptional energy-efficient windows with period-correct muntins and insulated glass, which are accepted by historic districts and meet requirements of today's building codes.
Moving into the 1800s, the change in windows correlates directly to style and scale of the architecture.  Panes became somewhat larger, and the properties did, too.  As Victorian architecture emerged in the latter half of the century, windows became elongated with much larger panes, showcasing four over four panes or even two over two.
At the turn of the century, the popularity of shingle-style homes surged, and with them came eight over one or six over one double-hung windows.  With one large pane below and less fuss with muntins above, visitors and homeowners could more easily admire seaside views tied to so many shingle-style houses on the water.  From the exterior, multiple panes above and a single pane below allowed the elaborate shingle work to take center stage without the window competing for attention on the facade.
In certain instances, diamond-patterned muntins or spider muntins made for whimsical feature elements and decorative accents on a more uniform house.  We look to preserve these sorts of unique features when we renovate and add them in where possible in new construction.
In the center entrance colonial of the 1900s, traditionalist style showcasing the classic six over six double-hung window became more prevalent.  The muntin pattern allows for plenty of light and gives warmth and character to the interior as well as the exterior.  In more modernist approaches, casements were used with frequency, especially by Frank Lloyd Wright and with prairie-style homes.  Whether made of metal, wood, or mahogany, it was a new interpretation of natural light's entrance into a property.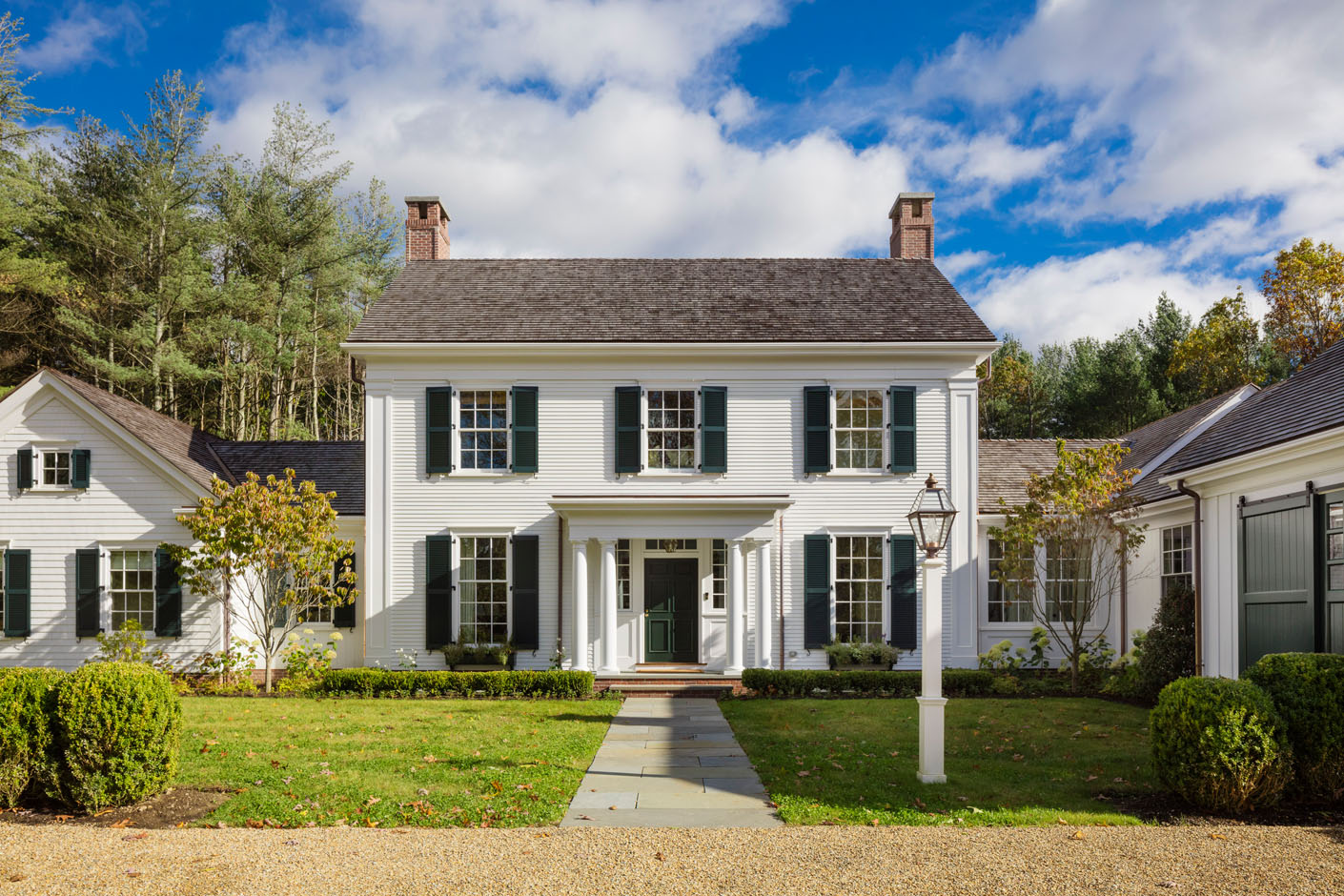 In present day, it seems the sky's the limit when it comes to window styles and sizes.  Trendy two over one pane with black muntins are having their moment, and a variety of casement style windows—whether made of iron, steel, or other materials—are appearing more than ever before. One element in particular that we love to use are french-style doors and sidelights which slide completely away, pocketed out of view when open.  These windows and doors represent how advances in building materials have impacted timeless architecture, allowing for indoor-outdoor living opportunities with seamless transitions.
When it comes to timeless homes, we always seek a uniform architectural presentation, with windows being a driving force behind the theme we're working to establish.  When selecting your own windows, consider what's most appropriate for the property based on the actual age of the home and scale of the structure.  The best cues for window selection come from the past to create homes with character that last far into the future.