At Patrick Ahearn Architect, our projects exude timeless character and traditional architectural romanticism.  When it comes to the holiday season our approach is the same while also being definitively festive.  Below, five tips for holiday decorating which, like our architecture, will never go out of style. 
1. Make a grand entrance with garland and bows
As we design a home, we consider ways in which to add anticipation and drama within a home's arrival sequence from the threshold of the street to the drive, possibly past a mailbox, all the way to the moment of impact at the front door.  During the holiday season, we add garland and festive bows which are visible from the afar and add celebrative beauty to the property throughout this arrival.  Garland is always a good idea along a fence, wrapped around a lamppost, or edging the casement of front or family entrances.  We use bows more sparingly with the theory that less is more.  By exercising restraint, it makes each pop of color that much more pronounced.
2. Highlight your best features with a warm winter glow
Exterior lighting is never more important than it is at the holidays.  Year-round, we recommend spotlighting main architectural features like a front door or the peak of a gable or gambrel.  A welcoming wreath on the front door all but begs for spotlighting, as will other decorated features. We look for lighting that is Dark Sky compliant in order to provide the aura we seek while protecting our environment, and work to symmetrically fade the spot at the edges for sophistication.
3. Enliven the exterior with sparkling lights
When it comes to Christmas lights, our direction is clear: white lights only.  We love the timeless authenticism of small, simple white lights tucked into exterior landscaping.  So many of our properties make use of plantings like boxwood, rhododendron, and holly around the front exterior, and these evergreen shrubs are perfect carriers for white holiday lights.  We also love accent trees.  By selecting just a few trees to tightly wrap with lights, in the evening, beautifully lit branches are seen without overpowering the architecture of a property.
4. Dress up your window boxes
To add timeless character, windows on our properties typically feature traditional window boxes.  While spring and summer allow for brightly colored blooms to be featured, there is perhaps no better time to put window boxes to use than the holiday season.  Try using juniper with berries, bittersweet, birch logs, pinecones, and other natural elements available at garden centers to make a festive display below a window.  For New Englanders and others in similar climates, fill the window boxes with dirt, then push in the stems and add water as usual.  Thanks to the winter chill, the holiday window box will freeze solid and last all season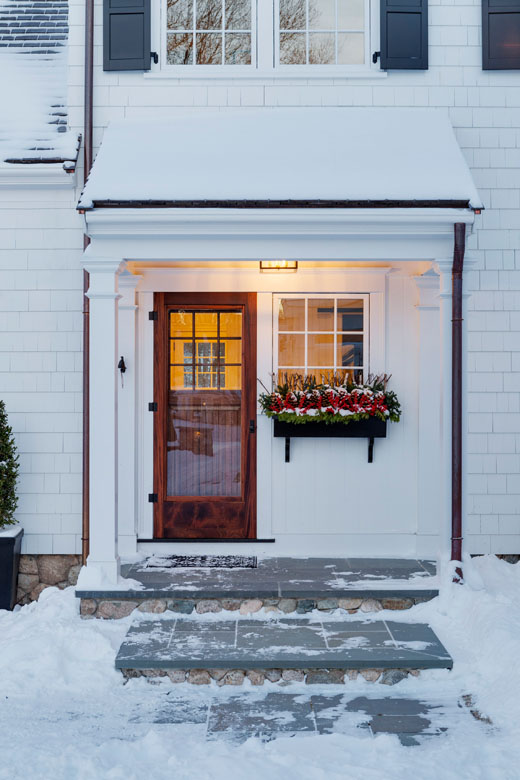 5. Allow your celebration to shine through a window
Whether it's a sparkling Christmas tree, a bright Hanukkah menorah, or a Kwanzaa kinara, proudly share your family celebrations with passersby by placing your lights in a location that can be seen from the exterior.  More than any decorative item, the joy of sharing traditions with others is what the holidays are all about.
From all of us at Patrick Ahearn Architect, we wish you good health, happiness, and peace this holiday season and throughout the new year!