At 5 years old, Patrick Ahearn thought he wanted to become either a car designer or an architect.  While architecture prevailed as a profession, his passion for cars persists.  Today, Patrick discusses the convergence of his two loves in the modern day carriage house.
What's the difference between a carriage house and a garage?
Simply put, a garage is a space for a vehicle and it's really a storage structure.  Garages after the invention of the automobile were basically sheds without heating or cooling.  They were a functional place to put your car, and they were typically detached from the home.  Today, most garages are attached, and some offer heating or cooling to protect cars and all the extra "stuff" that lands in there—bicycles, outdoor activity items, sports equipment, and the like.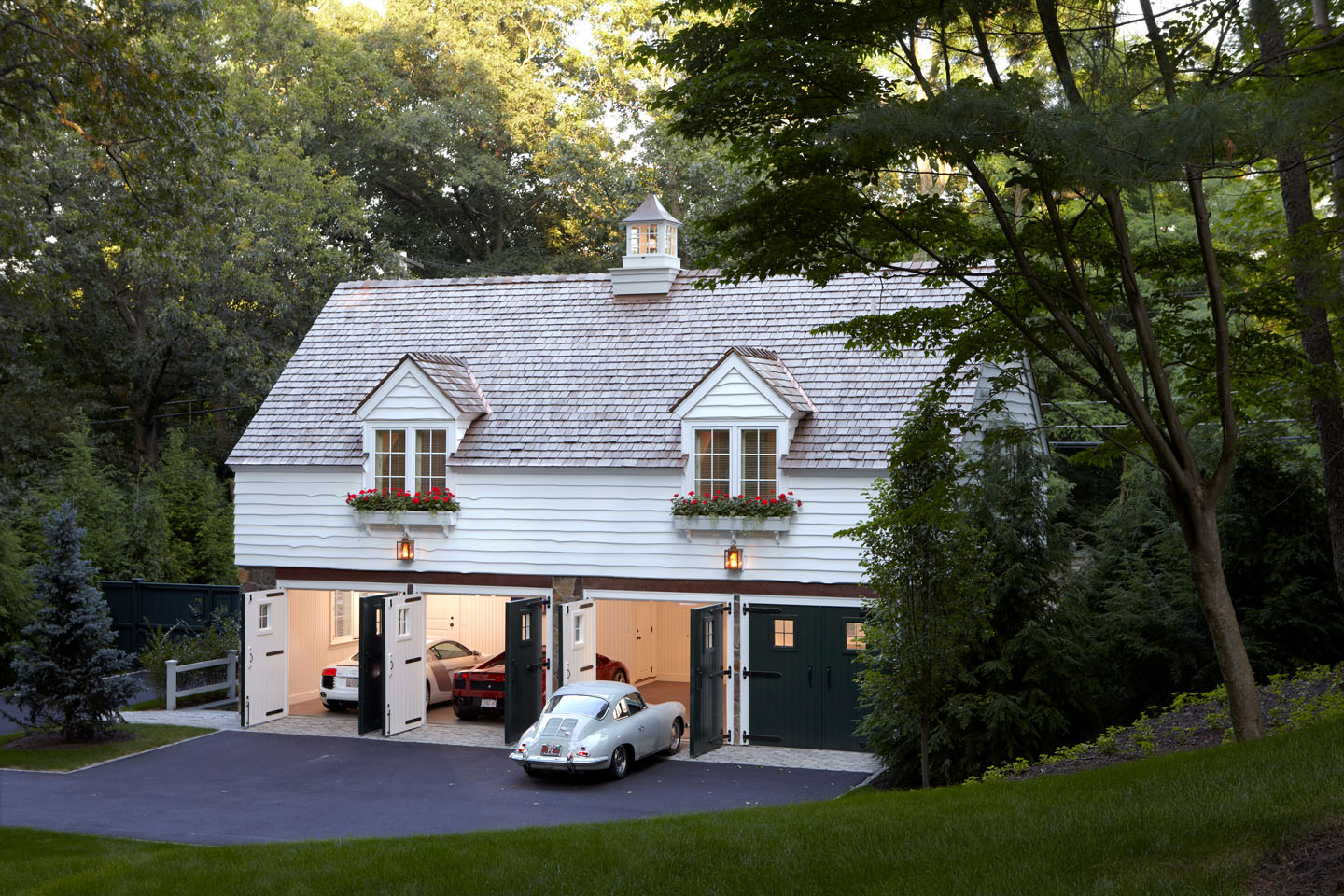 But a carriage house, to me, is totally different from a garage.  A carriage house has to have a certain romance to it—its functionality is so much more than just storage space.  Most of the carriage houses that I do are multi-faceted.  In the winter, sure, the space is used to store a car or cars, but in the summer, perhaps it becomes recreation space.  I have clients who enjoy hosting dinner parties in their carriage houses, and in those cases we design with entertaining in mind.  We'll think about elements like a brick floor, beadboard, or spar varnished mahogany to allow that space to make sense for different purposes.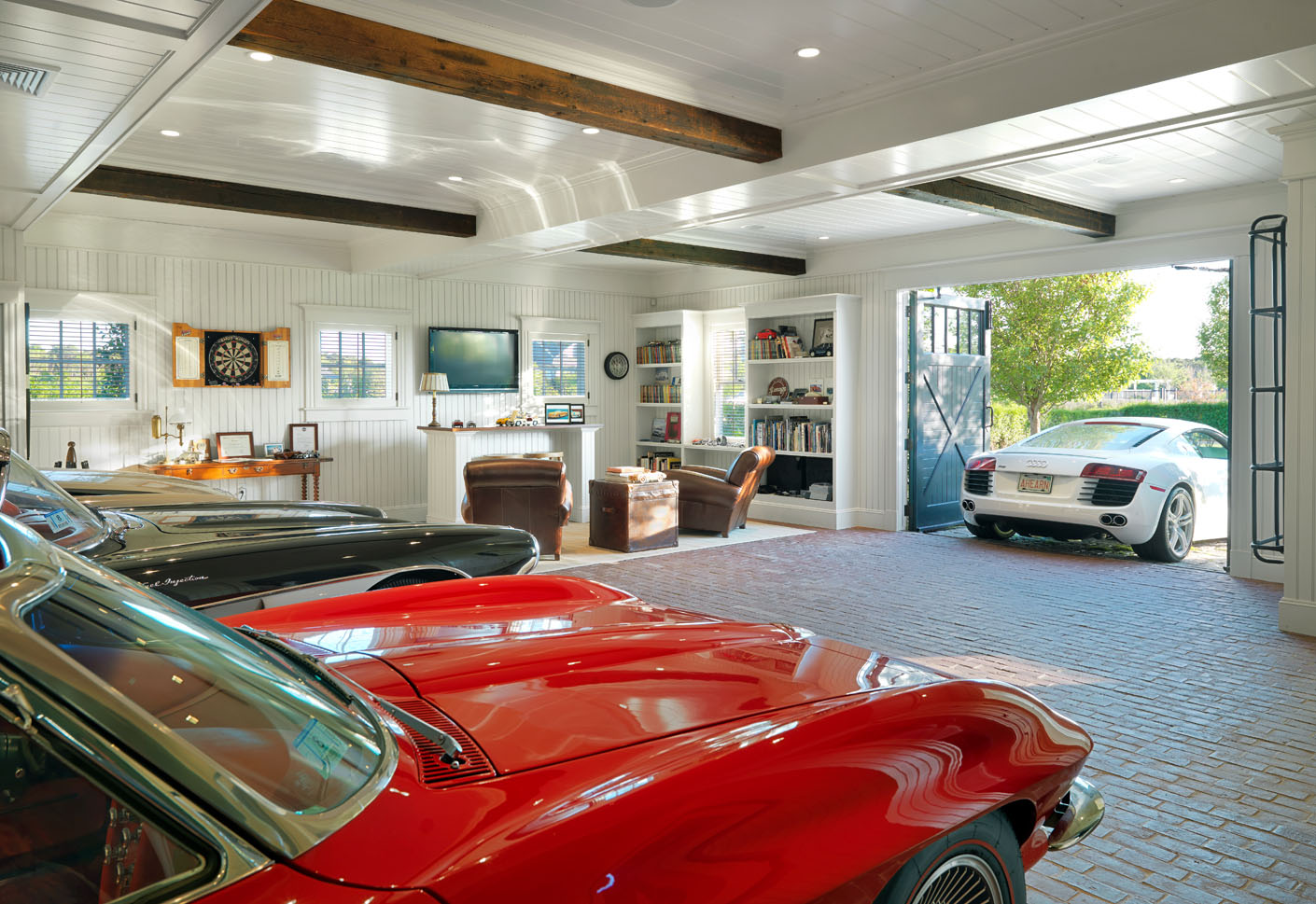 In addition, I'm always mindful of how a multi-function carriage house will serve its owners.  Heat and air conditioning are a must, and we think about programming like a bathroom, bar, and television.  Very often there's living space above.  Even if the owner is a car enthusiast, my goal is to have that structure work much harder for him or her than the old sheds of the 1920s that were just there to house a vehicle.
What kind of functionality do your projects typically feature inside the carriage house?
Well, the answer to that is really predicated on the full program that my clients might request, and the ensemble of structures and spaces that we're placing on their property.
First of all, my goal is always to have the carriage house have a direct correlation to the main house—it must be secondary in scale.  A lot of the carriage houses I do are on Martha's Vineyard, and there's a historical precedent in Edgartown of all of these outbuildings—you have chandlery buildings, blacksmith buildings, barns, and more.  With those buildings comes a hierarchy of main house to barn to carriage house to workshop and so on, which is consistent over a 350 year period on the island.  Now, whether I'm working on Martha's Vineyard or elsewhere, I like to take that same hierarchy and use it to break someone's program into pieces that make sense in a historic way.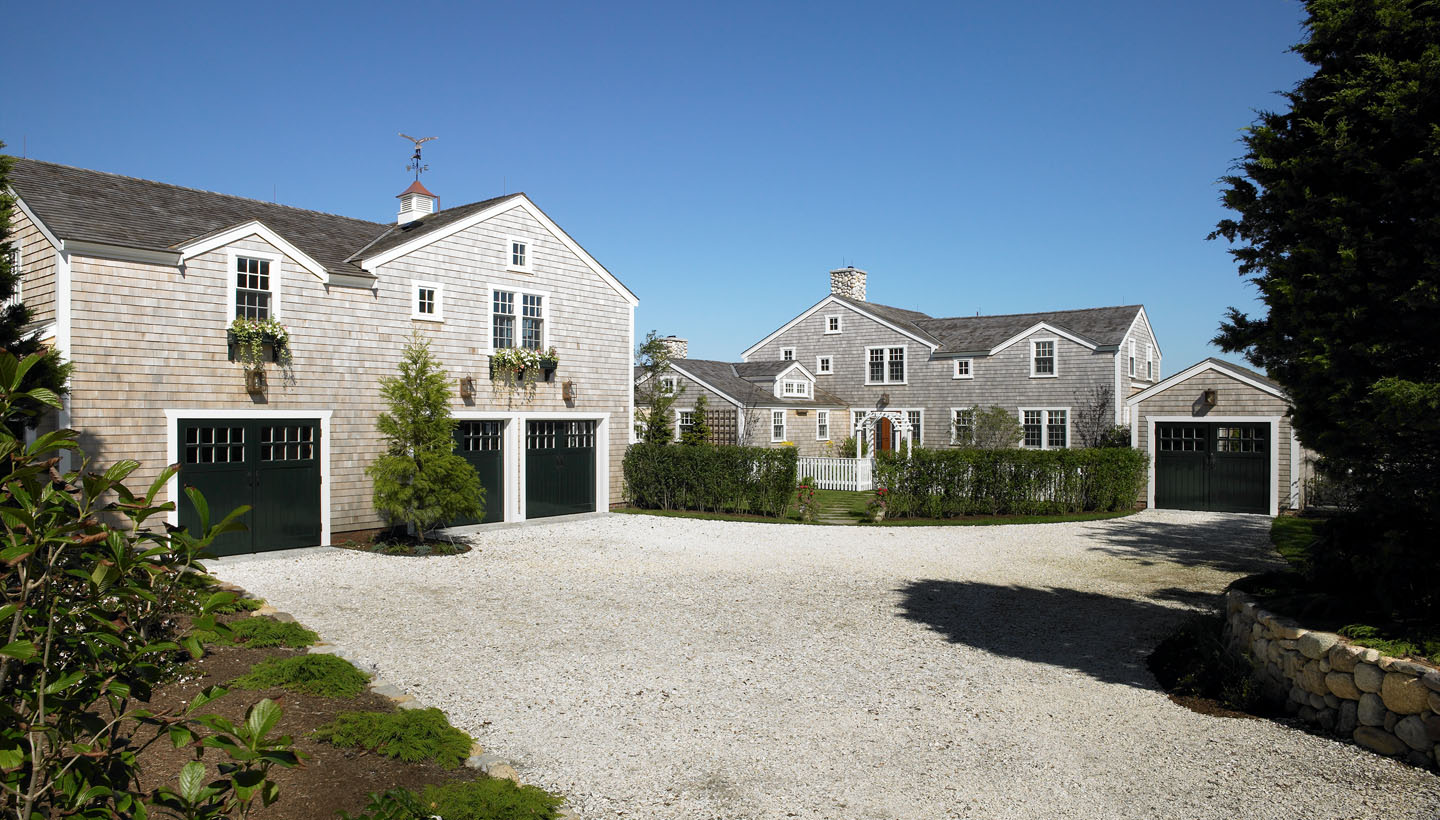 But back to functionality, I've done all sorts of carriage houses.  Typically, we'll find a way to incorporate a guest suite or apartment on an upper floor.  I like to tell my clients, I've raised 5 kids—sometimes they all play well together, and sometimes they don't.  And as kids grow and start to bring guests or significant others or even grandchildren to visit, they're going to want privacy too.  In that sense, having a guest area that's not in the bedroom area of the main house makes a really nice private space for visitors.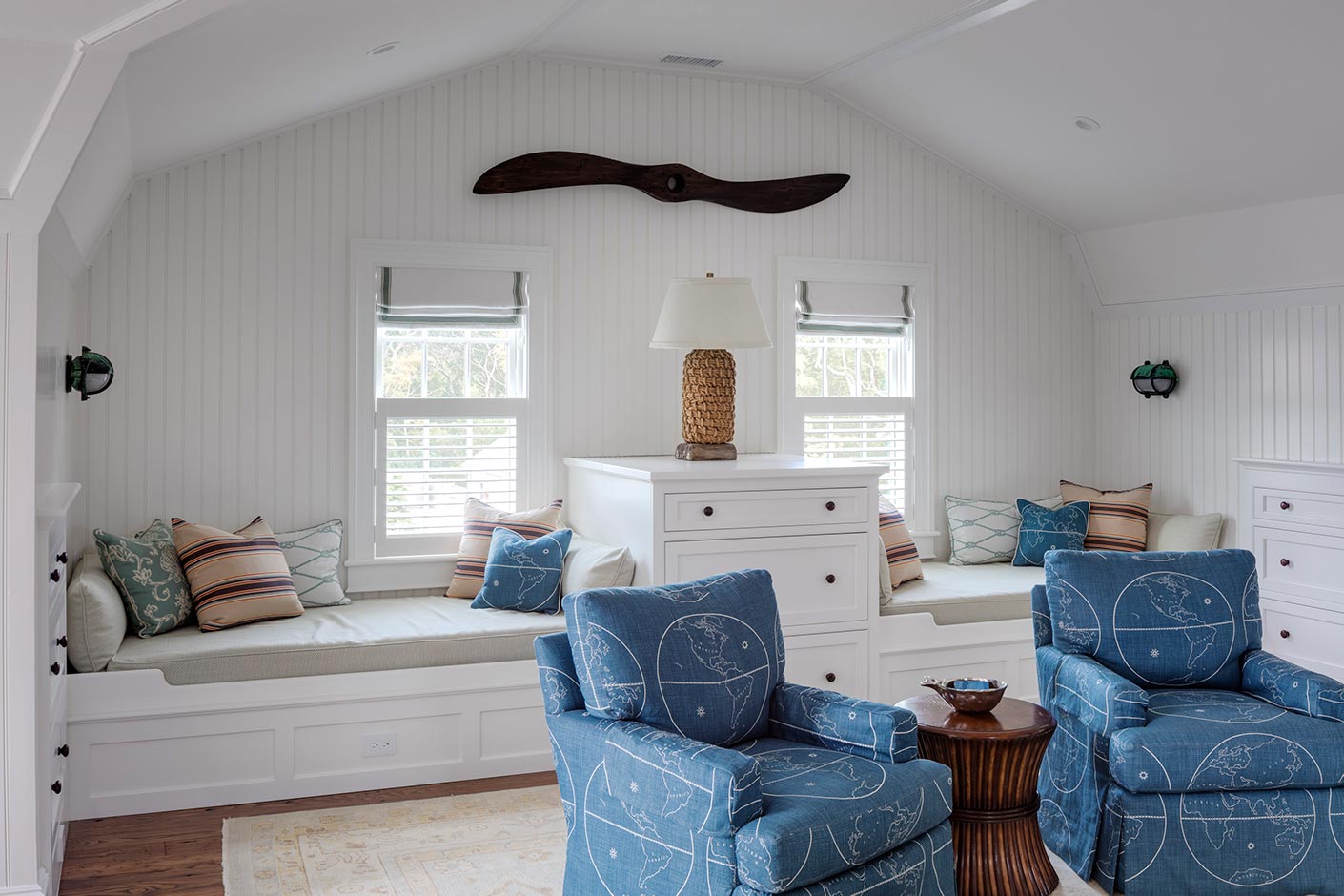 In one carriage house on the cape, we worked with existing topography to get the most out of the program.  That house in particular had very steep grading which had posed problems in the past.  But for us, it allowed for an engaging campus configuration.  We took the carriage house, and put it at the lowest grade, and this beautiful winding driveway now takes you there.  The lower level became functional vehicle storage, and we created a proper pool house on the upper level for the owners to enjoy.  It was a great solution to what had before been a negative for the property.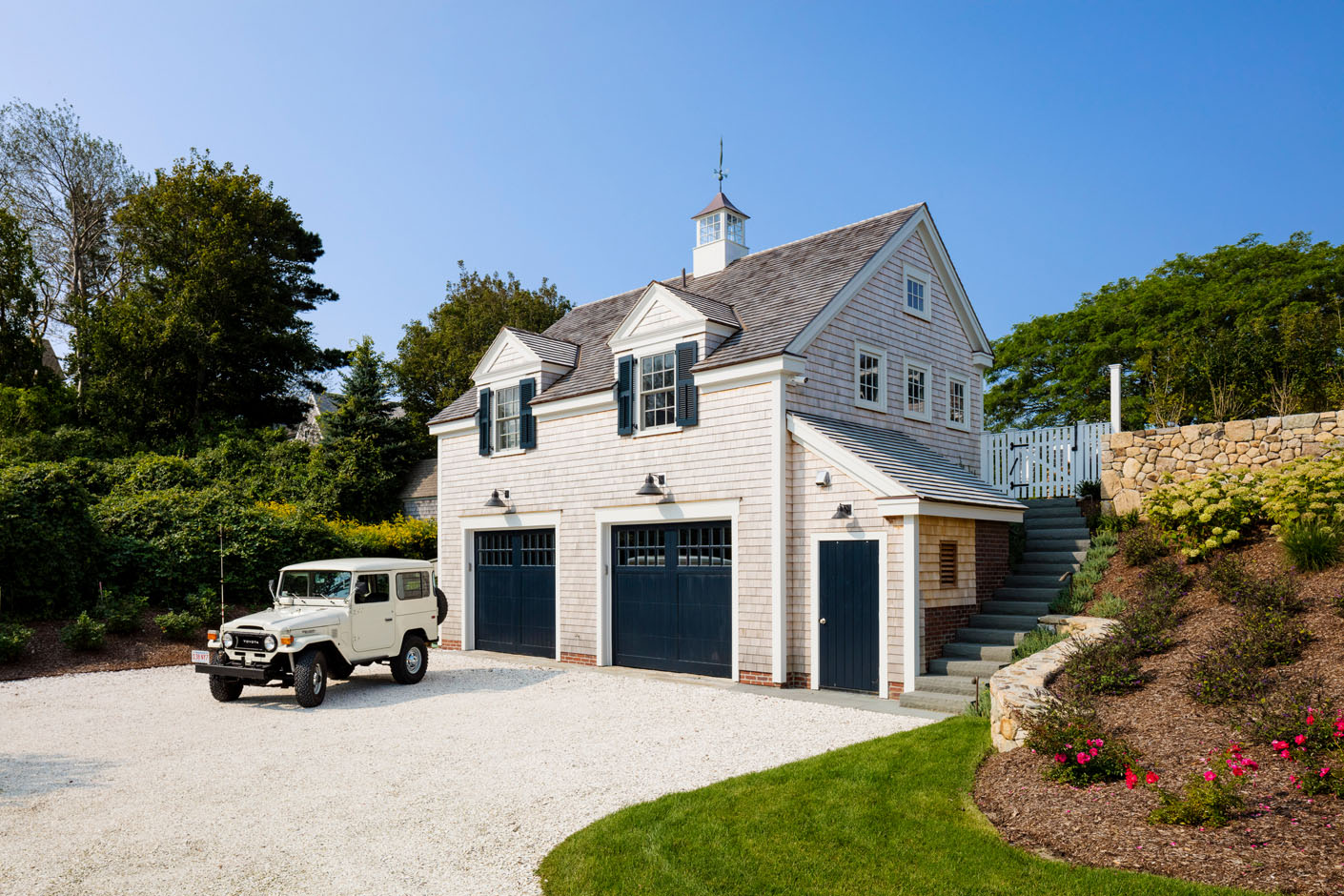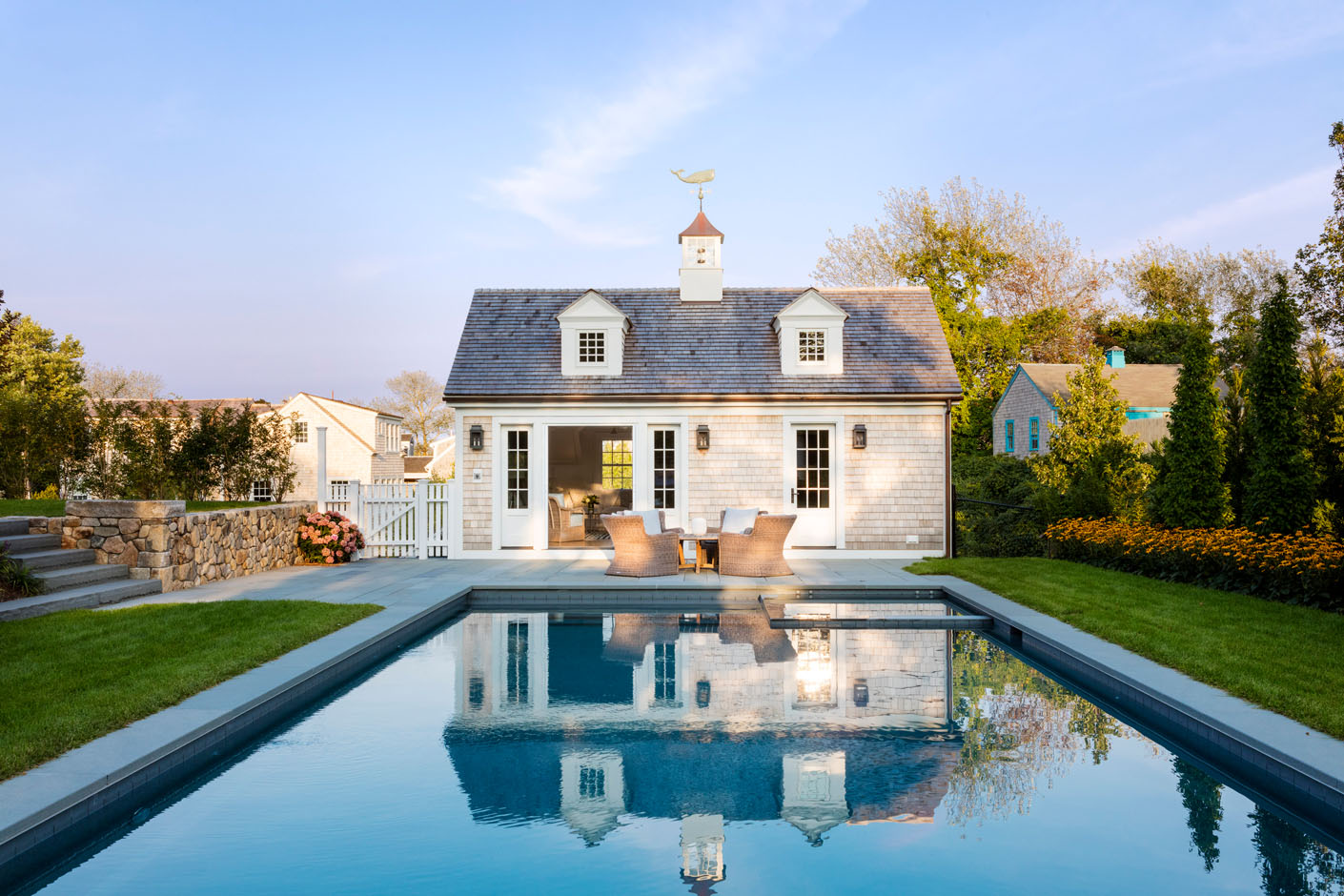 Beyond guest quarters and pool cabanas, though, inside carriage houses we've done entertainment spaces, game rooms, offices—you name it.  Carriage house programming all depends on the wants and needs of my clients and the scope of their properties.  The sky's the limit—it really makes them a joy to design and build.
Considering a carriage house for your own property?  Contact us to learn how we can create a meaningful structure with programming beyond just a place to store a vehicle.  In the interim, we invite you to find meaningful inspiration in our portfolio.