First impressions count, and at a home, no greater moment happens than the one at the front door. Many residences are designed to evoke a sense of procession from the curb to the main entrance, and the door can be considered the resolution of that anticipation. When selecting doors there are a myriad of options. While door selection is driven by the character and vernacular of the house, we present these 5 concepts to consider when making a choice.
1. Placement
Our goal with the placement of the main entrance and family entrance is to establish a hierarchy of doors on the house. While the primary door is most often placed prominently on the front façade, we often choose a larger front door, perhaps 3'6" wide and taller than others, or one that is more ornate to reinforce its role as the main entry.
When possible, we prefer to place the family entrance inset into a porch or on a different plane than the primary door. We often specify it to be slightly smaller than the main entrance, perhaps only 3' wide, to reinforce hierarchy via scale. Frequently in new builds, we place the secondary entrance in a connector wing adjacent to a mudroom between a carriage house and the main residence. This execution eliminates all confusion from the streetscape as to which is the primary door and which is the familys entrance.
2. Presentation
Cues beyond just the size and placement of the door can help distinguish the main entrance from the secondary door. The ground plane is an often overlooked opportunity to help indicate hierarchy. Different paving patterns or materials might be used to help establish the front door vs. family entrance. For example, a new wide bluestone walkway might be installed to indicate a pathway to the main entrance from a motor court, while brick or reclaimed granite pavers might be used on the way to the secondary door from the same area.
3. Product
Nearly 100% of the time – and especially with main entrances – we specify a full wood door. In terms of character, quality, and authenticity there is simply no substitute. While most of the doors we specify are custom, we encourage enthusiasts to seek out quality that will last in a style that matches the theme of their home.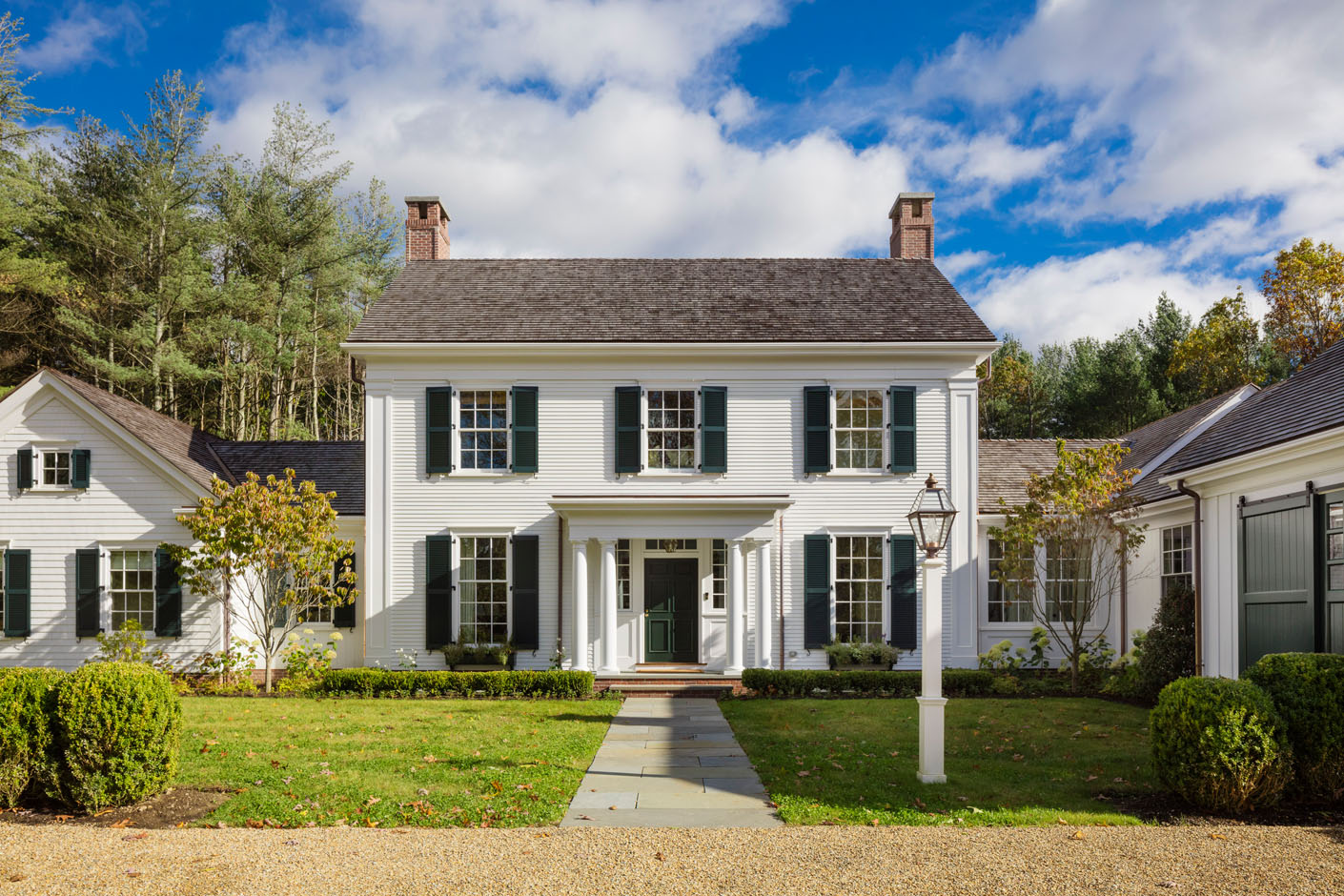 4. Presence
When it comes to a door's presence, there are layers of information to consider. Hardware, lighting, coloration, and other accessories all play a part in establishing presence. We like to specify oil rubbed bronze hardware on nearly all doors, but on a main entrance may opt for more elevated hardware. On a front door we may choose brass hardware commensurate with the scale of the door with a door knocker, hinges, house number, or mail slot to reinforce its presence and grandeur as the main entrance to a home. Coloration of the door adds another layer to this display, and as a result some entry doors are finished with lacquer paint or a contrasting color to help indicate their presence.
We will also often reinforce the presence of exterior doors with lighting. Our preferred lighting for entryways is copper coach lighting, which is seen in much of our architecture. Either flanking a main entrance on both sides or placed to one side of a family entrance, coach lights act as a beacon, identifying these entry points even after the sun goes down.
During the daytime, planters prove to be ideal accessories to call out entry points on a residence. Flower boxes beneath windows add to the character of a home, and planters astride doorways add moments of color and nature that draw attention to front and side doors.
5. Passageways
While front and family entrances are critical elements for a residence, we are often asked about use cases for two specific styles of doors—Dutch doors and French doors. Each are used as passageways in our architecture.
Particularly on secondary homes like country homes or beach homes, the Dutch door can act as an inviting gesture to welcome people into a property. Typically specified in our architecture on secondary entrances, the Dutch door is most effective when slightly exaggerated in size. Insertion of a Dutch door instantly adds to the cottage feel of a home, allowing for a sense of enclosure while also permitting access to the exterior.
French doors are used liberally throughout our architecture as a way to reinforce indoor/outdoor connection. Exceptionally effective at drawing homeowners and visitors to the exterior, French doors provide instant connection from interior spaces to porches, patios, and decking. With plentiful glazing, French doors do double duty as tall windows when closed, allowing for appreciation of the natural beauty beyond them whether opened or closed.