One of the most positive ways to enhance the character and warmth of a home is with carefully orchestrated exterior lighting. This addition of luminosity in the dark celebrates a home's architecture in the night as well as the day. Equally important in the front and rear of a house, proper exterior lighting has the power to set mood and tone in the evening hours. Below are some of our team's tried and true ways to highlight your property's unique features and make your home incredibly inviting at night.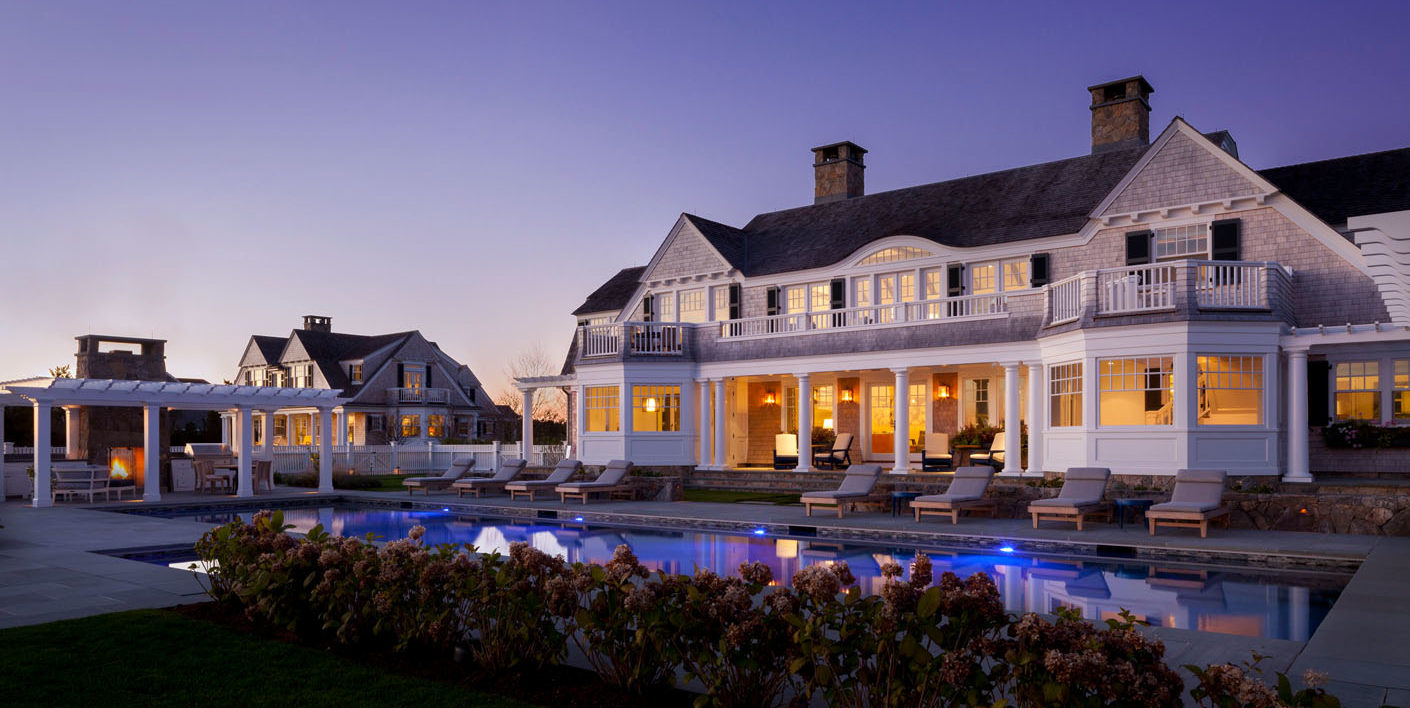 Lighting your entry
Timeless architecture calls for classic lighting. From the street we immediately consider lamp post lights, coach lights, and pendants as ideal lighting options.
Popular from the early 1800s with gas flames used for illumination, lamp posts endure today in a variety of styles and beckon guests to approach the front door. While gas lanterns on posts are occasionally still used for historical character, electric lights are far more popular, and efficient vintage-style LED bulbs can cast a similar glow. In selecting an LED bulb, be sure to look for one that shines a warm light on your pathway as opposed to the too-bright cold light emitted from early LEDs on the market.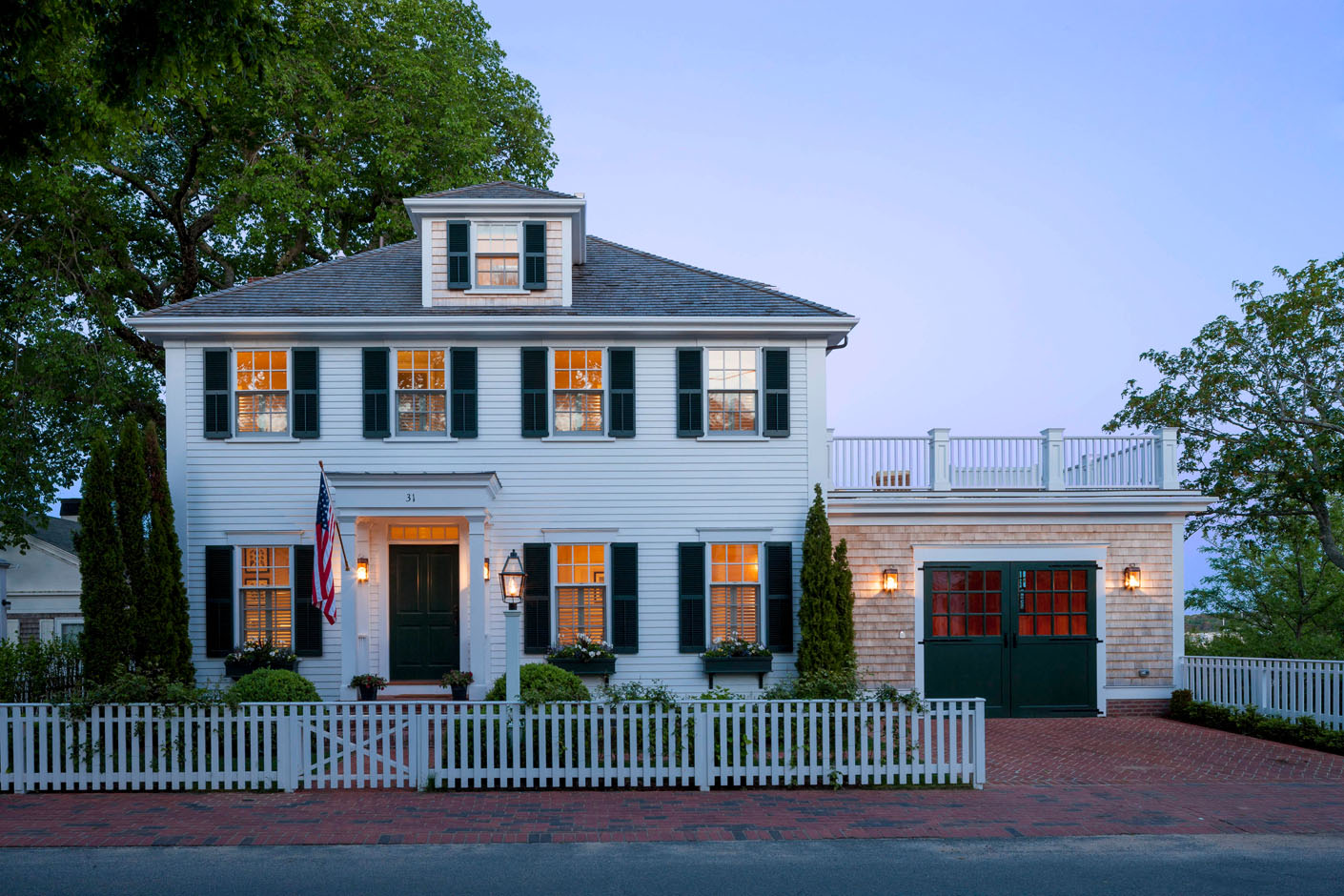 Copper lanterns are among our most preferred elements for outdoor lighting. Set astride a front door, coach lights give a warm halo to the front of the house. We find traditional handmade copper coach lights on Martha's Vineyard, but other options can be found wherever artisans may be working. With coach lighting, size is critical – consider that the fixtures are a feature, and should be prominently visible from the street.
Under a portico or at times within a vestibule, we specify hanging pendant lights to indicate timeless character. With a glowing pendant, an entryway can be lit with a romantic luminescence. The scale of these pendants is particularly important – be sure to consider the height of your portico as you select the fixture.
Beyond lampposts, coach lights, and hanging pendants, we sometimes find existing historically significant light fixtures when renovating older structures. Restoring these fixtures and allowing them a place in a renovation can maintain authentic character at an exceptional property.
Spotlighting
Arguably one of the best ways to accent a home's architectural splendor is low voltage spotlighting. Tucked away in the landscape, viewers should be unaware of precisely where the light is coming from. Instead of emphasizing the fixture itself, light is shone upon any number of dominant architectural elements present at the property. We often seek to wash the entry with a warm glow or highlight features like gables or peaks with soft spotlighting. Sometimes a spotlight can dramatize the edge of a dominant chimney, adding just the right amount of evening romanticism.
Lighting your landscape
Related to landscape lighting our team is always Dark Sky (IDA) compliant. In order to see the natural beauty of twinkling nighttime stars, lower lit landscape lighting must be used, and can set a luxurious tone. We work with these concerns in mind as we think about lighting a driveway arrival sequence, in between shrubs, and along footpaths in the dark.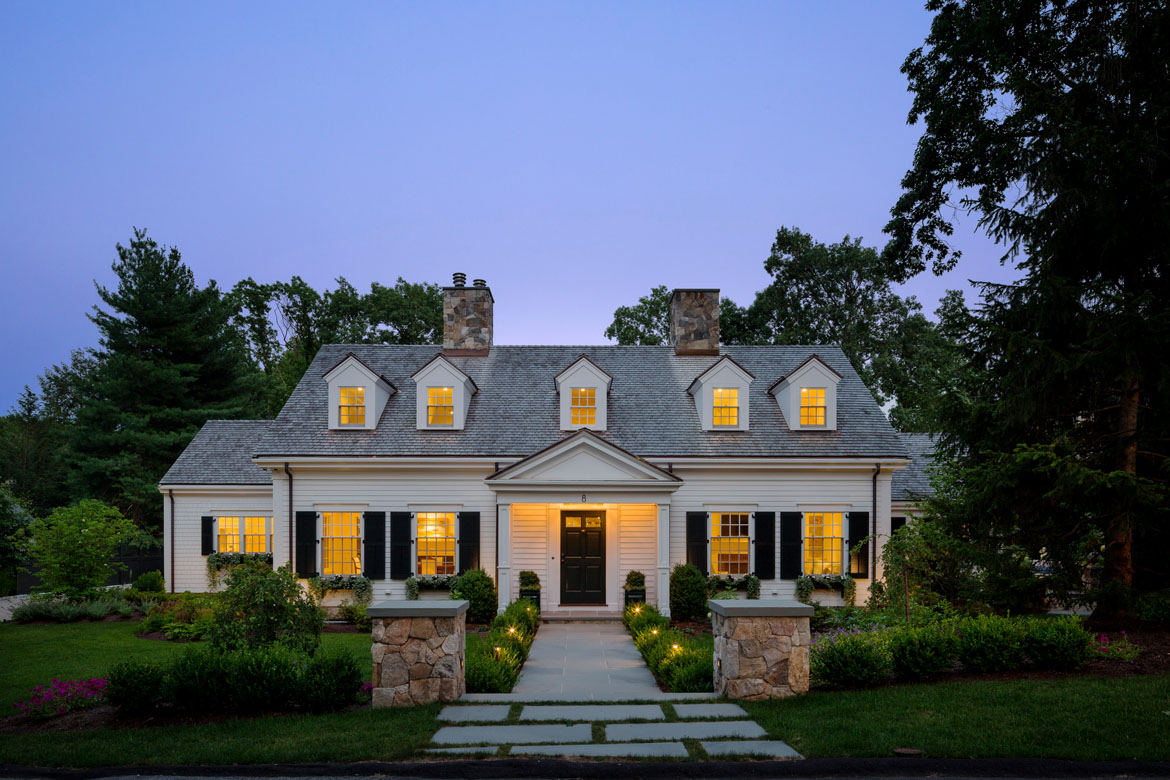 Uplighting
It is still possible and worthwhile to do some carefully selected tree uplighting while respecting the work and goals of the International Dark Sky Association. Depending on the size and scale of the property, too much uplighting can be overkill. Articulating one or two trees can be a great solution to draw the eye to the outside at night and express the full scale of a property.
Considering highlighting your home's architectural features? Contact us to learn how we might approach the project. In the interim, we invite you to find meaningful inspiration in our portfolio.
Originally posted July 30, 2020.
Revised November 30, 2023.