For more than four decades, our team at Patrick Ahearn Architect has specialized in creating classic American architecture designed for contemporary living. To create timeless architecture in new residences, we seek to blend key exterior elements to tell a story of a home imbued with history. Below, our essential kit of parts used to "backdate" a house.
Whether restoring and renovating landmarked homes or crafting new residences, our goal is for a property to evoke a sense of history, especially from the curb. In renovations, we respect the past and look to restore and highlight architectural elements unique to the period in which the home was originally constructed. In new builds, however, we must create that sense of history using an amalgamation of elements that together tell the story of a much older home. From the foundation to the roofline, these are the details that make a significant difference. A true case of the whole being greater than the sum of its parts; when these elements are executed together, passersby will wonder whether the home has stood forever.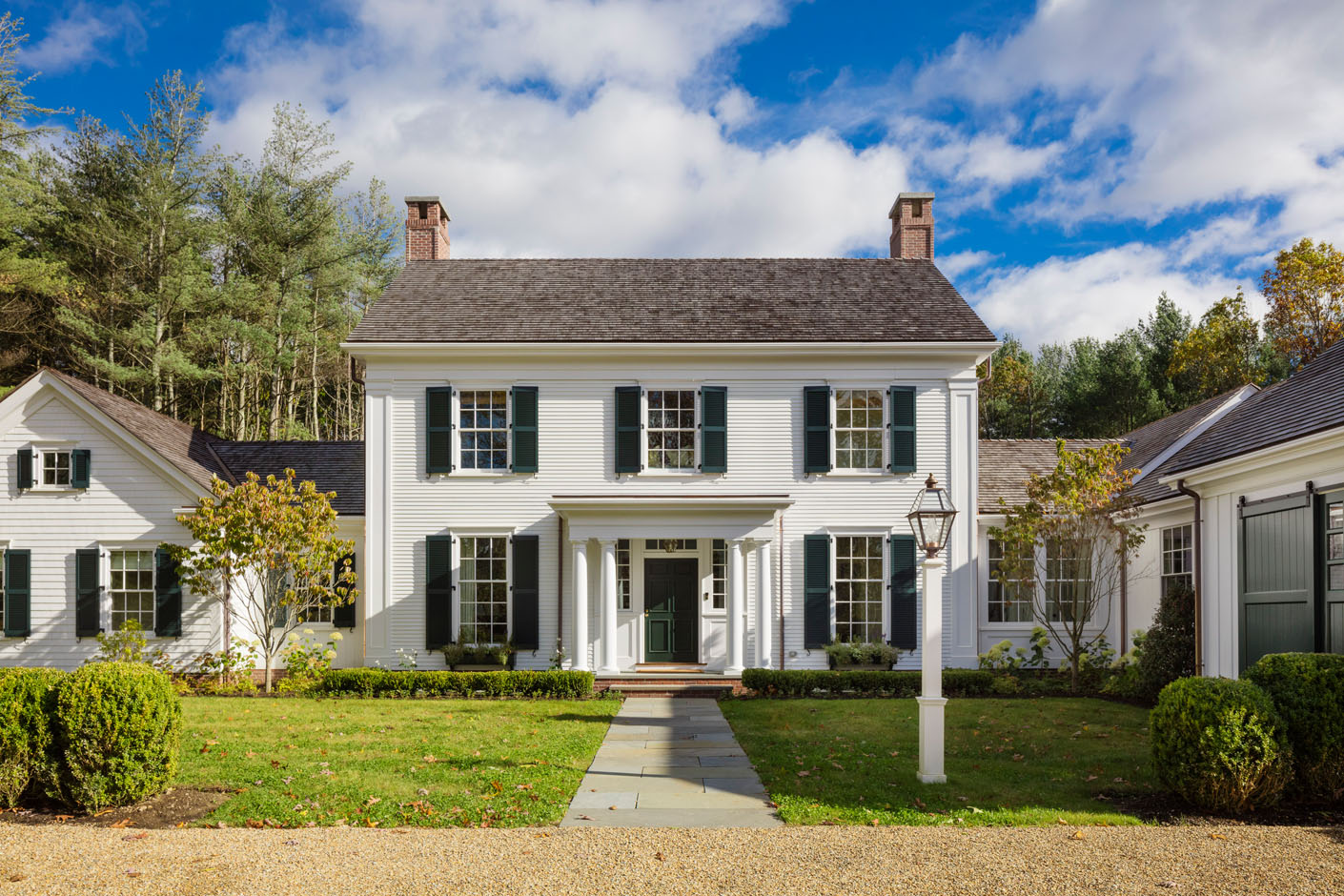 At the base: the foundation
A home's foundation is the first element that can backdate a house. A critical piece of the exterior mix, most foundations are expressed at a minimum of 8 inches, but most are even more exposed. Historically, foundations were comprised of fieldstone or brick. Concrete as a material was not available long ago, and thus when a foundation is left as concrete, it's a dead giveaway that the home is new. We look to veneer a foundation with brick or stone to tell a tale of a property that has stood longer than its actual age. Once the podium is expressed architecturally with brick or stone, the subconscious registers the home as longstanding.
A window into the past
On most of our projects, we specify Pella Architect Series windows. With muttons featuring extra step profiling like single glass windows of yore, these windows help to elicit the sense of a historic structure. Further, on the exterior, when assessing basement windows, we identify the header as an opportunity for historical cues. On a brick home, we look to use a soldier course of brick along a basement window header or at times an old stone granite lintel. This simple change in direction in the brick or change of material in the header makes a house read as far more storied than new construction.
As we rise up to front-facing windows, we look to layer information to tell a historic tale. Features like shutters with pins and holdbacks that are not merely screwed into the base of a building are part of our vernacular. Similarly, front-facing window boxes have a big impact on a home's timeless feel.
Moving along the facade: the front entryway
Upon arrival at a step to the front door, we like to work with reclaimed granite whenever possible. By using old granite steps as opposed to concrete or bluestone, the home will register with a greater sense of history.
Beyond those steps, the front door itself is an incredible opportunity to make a home read as timeless. By working with a 3'6" wide extra thick door with period-appropriate hardware, the home welcomes with an entrance that appears to be steeped in history. Architectural pieces such as the entablature around the front door or a portico can also be used to help a home read as older than its actual years.
One of the most critical details that can give even a new home the patina of age is properly scaled artisanal copper coach lights. Investing a little extra to procure quality lights like the ones from Lamplighter Corner or Patti Bros can make an enormous impact on a home's narrative. Set astride a front door, copper coach lights warm an entry, set off a historic-seeming front entrance, and welcome visitors with the sense that the home has been there for 100 years or more.
Whether renovating historic homes or crafting new residences that reimagine classical vernacular, we balance the romance of traditional architecture with the ideals of modernism.  Feel free to contact us to learn how we might create a timeless residence for you and your family.  In the interim, we invite you to find meaningful inspiration in our portfolio.