Over 40 years of practicing architecture, our office has seen an ever-growing trend towards the desire for multigenerational family properties.  The lure of a family homestead is a powerful draw to bring children and grandchildren back to spend time with older generations.  But how can a property accomplish a program of significant square footage without overwhelming its owners when only they are present?  Below, our preferred approach to the legacy homestead.
Instead of developing one very large multigenerational property, when approaching a legacy homestead we typically work to deconstruct a significant family program into manageable pieces.  This idea is rooted in American history, and New England vernacular in particular.   The agrarian colonial homestead from the late 1700s well into the 1800s would have been composed of a main house and additional structures to support physical work on the land.  A barn for cattle and horses, a bunk building for farmhands, a chicken coop to house the fowl, a carriage house, a spinning shed, and more—all might have been found on the property.
We choose to draw from that historic architectural composition and reimagine those structures for modern day living.  The ensuing result is a nuanced campus of buildings and outbuildings with year-round programming inside, outside, and in between the structures for family enjoyment.  By deconstructing a much larger program into smaller components, goals of more intimate getaway rooms and larger entertaining spaces can be simultaneously accomplished.  Suddenly the main house no longer overwhelms its owners when only two occupy the property, and multipurpose outbuildings like a barn, carriage house, or shed can contain guest quarters along with room for a crowd.  In essence, we consider the shells of the past and repurpose them explicitly for today's extended family life.
One recent example of our approach lies in a multigenerational Cape Cod property.  We renovated and completely reworked the main structure to meet the homeowners' wants, and subsequently added outbuildings to accommodate a full family program.  Extra square footage lies within the guest house, the pool cabana, and the shed such that these more modest-looking structures combine to create very significant living space.  In addition, areas between the buildings are thoughtfully maximized with places to entertain and delight, including exterior dining underneath a canopy of mature climbing vines, a pitch and putt overlooking the water, poolside lounging, and more.  The resulting homestead works for an extended family retreat yet also provides a manageable home for when the owners alone are in residence.
Sometimes our compositions are structured around an existing home, but more often than not we are starting anew.  In one such case in Chatham, 7,000 square feet of programming was split among structures to create more manageable spaces for the homeowners.  While the main house takes the lead, the multipurpose pool house provides separate private living quarters for guests along with full cabana functionality, a three-car garage, and a classic brick-floored game room.  Exterior features including a pool for warm weather use and an outdoor fire pit make for multigenerational entertainment year round.
When zoning will not allow, or when a client wishes otherwise, we may develop a program that mimics the feel of a homestead that was added onto and connected over time.  One such property was neatly placed in Concord, Massachusetts.  Set along a narrow road lined with dry set stone walls from the time of the Revolutionary War, the homestead was created to imply a sense of history.  Mimicking the vernacular of nearby properties, the square footage was separated into sections that appear to have been smartly repurposed and linked.  The central section has overtones of a Federal Colonial farmhouse, with breezeways that connect it to structures that could have been a stable and outbuilding updated for modern day.  Manageable for the owners alone or for a houseful of guests and entertaining, this modern family homestead achieves significant square footage without being ostentatious or overwhelming.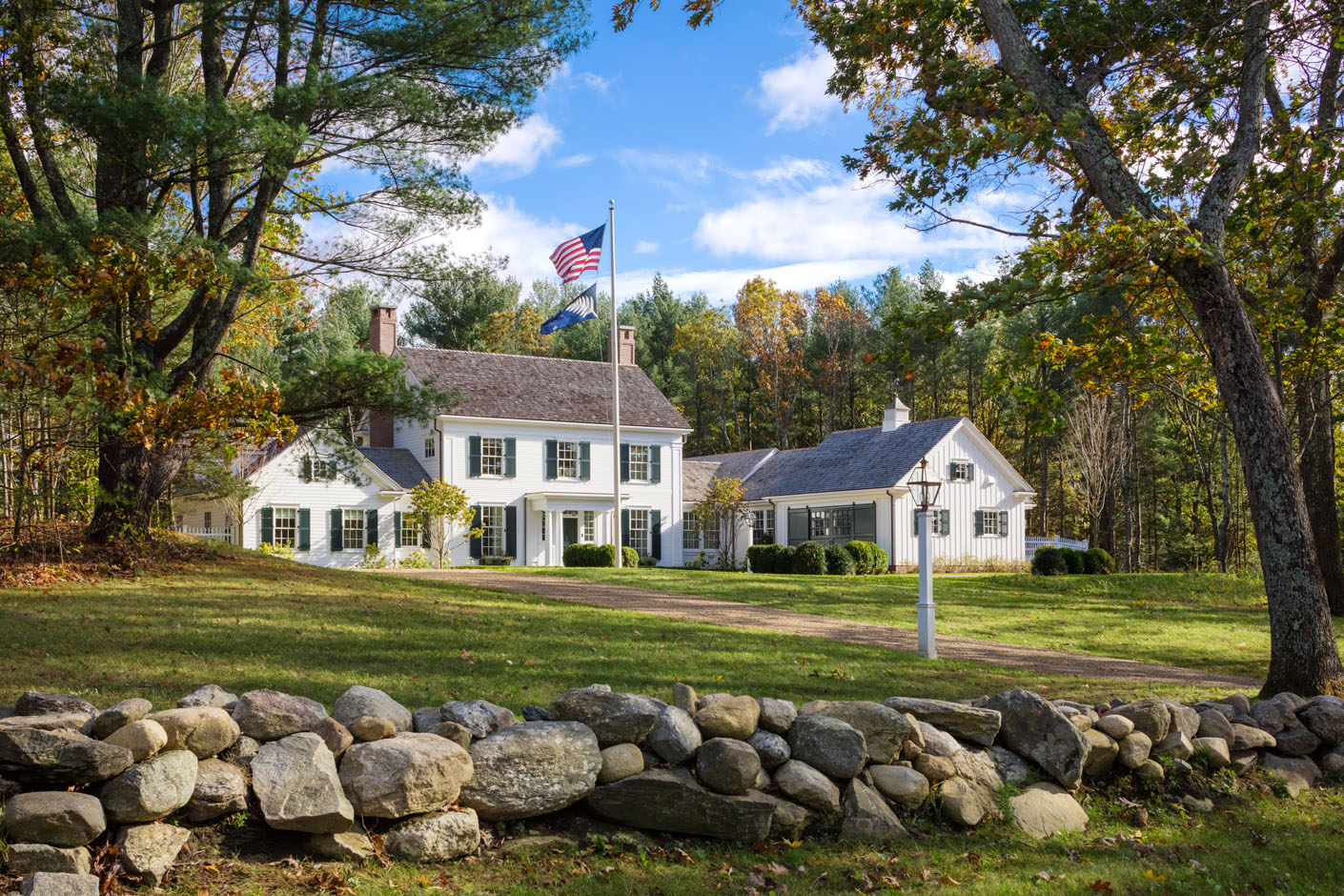 With any multigenerational homestead, our goal is to create a way for groups to spend quality time as a family while also allowing for separation and quiet moments that make for cool heads and relaxed moments together.  The resulting places and spaces are livable and enjoyable for today and also for generations to come.