Patrick Ahearn's first love wasn't architecture, it was cars. As a child he knew makes and models from the 1950s and 60s from their hoods to their hubcaps. When a high school guidance counselor discouraged him from becoming an automotive designer, he decided to study architecture, eventually building his 45-year career designing structures of distinction throughout New England and beyond.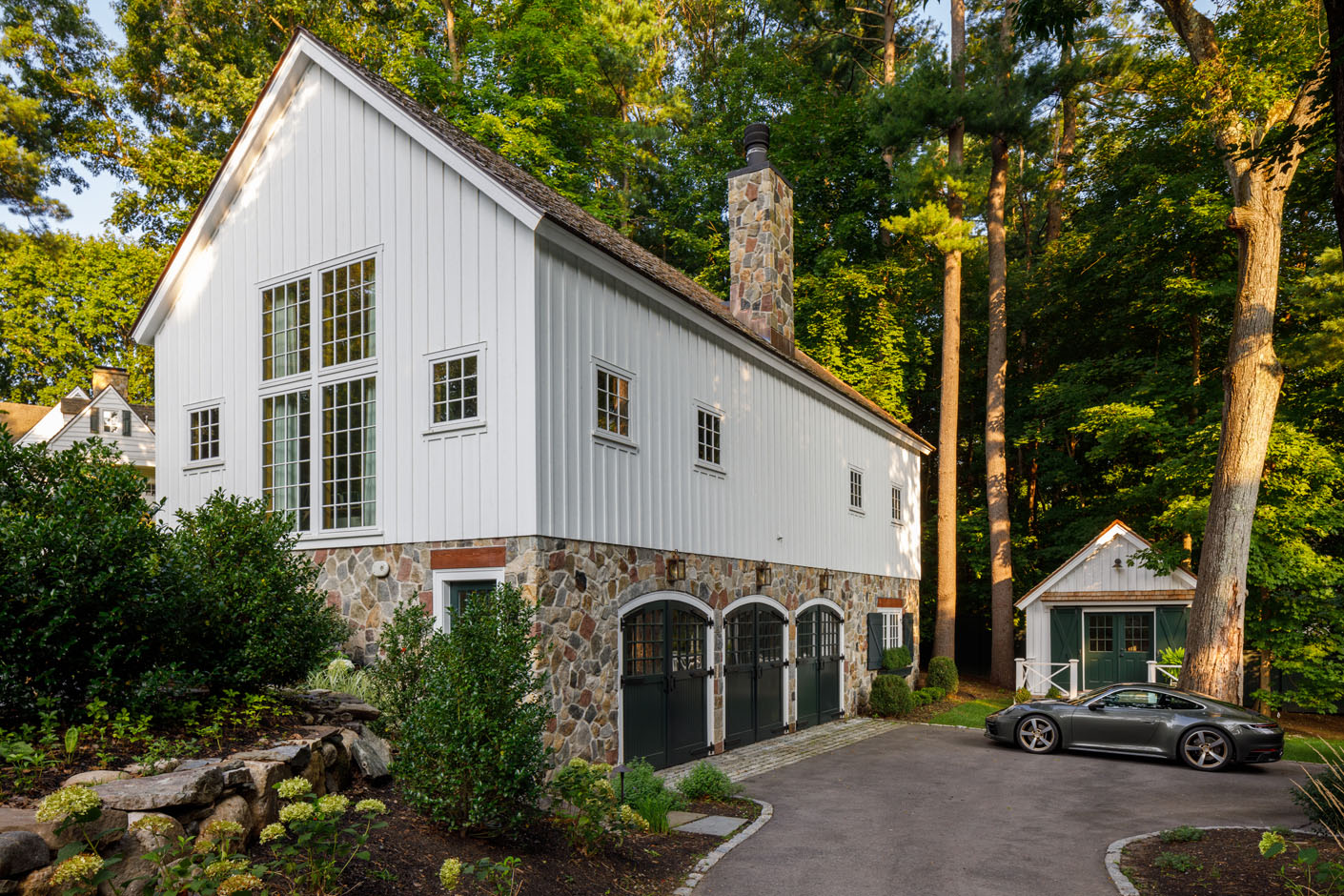 A carriage house, however, represents the convergence of Patrick's two passions – cars and architecture. Far more than a mere garage, these sometimes standalone structures might contain multi-function spaces appropriate for social gatherings or living quarters above or below. Recently, The Wall Street Journal explored what makes his carriage houses so special in a print piece entitled The Ultimate Carchitect.
Since then, we've received countless inquiries about carriage house doors. Where do we source them? How do they work? And why would we consider having them open outwards instead of upwards? Read below for answers.
Going Up
By far the most common execution of carriage house doors is doors that rise, traversing tracks suspended from the ceiling. Architecturally, the challenge with these doors is that as they open, the horizontal lines break the door apart which is aesthetically suboptimal. Functionally, however, these doors make the grade. We prefer transom glass at the top of a rising door, and typically use them in renovations when an existing door remains in place to save on cost.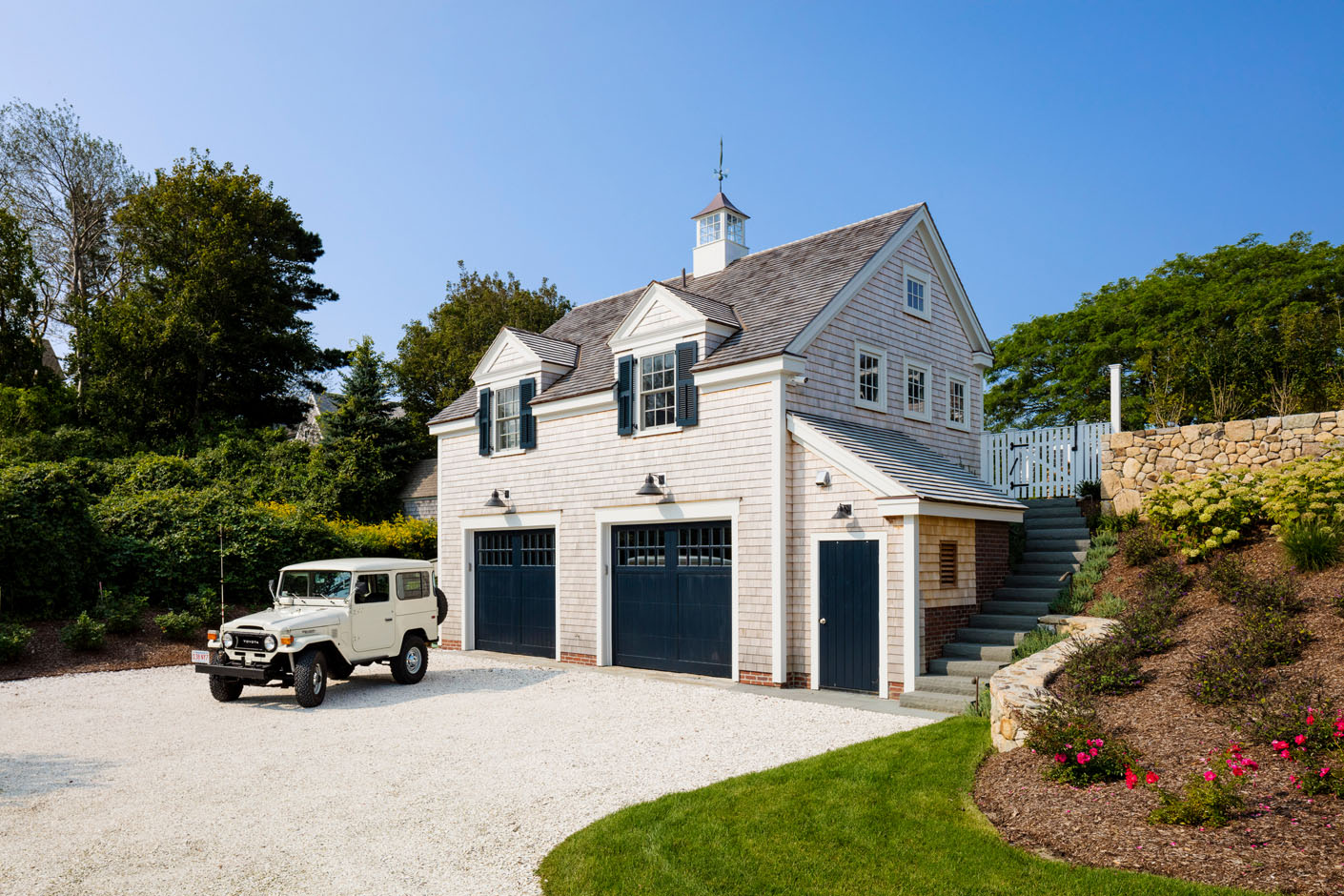 Out & About
Our iconic carriage house doors, however, open outwards in the style of traditional barn doors. Automating this motion is essential for everyday life, and thanks to European engineered motors this can be accomplished with the click of a button. In cold New England climates and others that are similar, we advocate that our clients heat a cobblestone apron in front of these doors, so snow can melt away instead of piling and obstructing the movement. When we specify these doors, typically they'll feature glazing to allow light into the space—ideally four over three or four panes depending on the scale of the structure.
The major benefit to doors that open outward is that the interior can be completely opened, without breaking the volume with unsightly metal tracks. In this way, a multi-function space can be finished to the same level as our residential interiors, perhaps with beadboard on the ceiling and a high level of millwork and trim. When our clients use their carriage houses for special events, springtime outdoor games, or ever-popular "man-caves," guests don't feel like they've been relegated to a garage. Instead, the spaces feel finished and premium, with a strong indoor-outdoor connection when the doors are open. 
Fixed in Place
Perhaps surprisingly, sometimes we fix carriage house doors in place. This may be done to balance a structure's exterior presentation, allowing for the pleasing appearance of symmetry. Sometimes carriage house doors are fixed to communicate theme or function to those who drive or walk past the property. Especially on homestead properties with more than one outbuilding, fixing carriage house doors on a street-facing façade can narrate functionality to the public. On residences with implied history that are designed to appear to have been different structures connected over time, we may fix these doors in a particular location to indicate that a portion of the overall residence used to be a barn or carriage house, no matter what the program is within.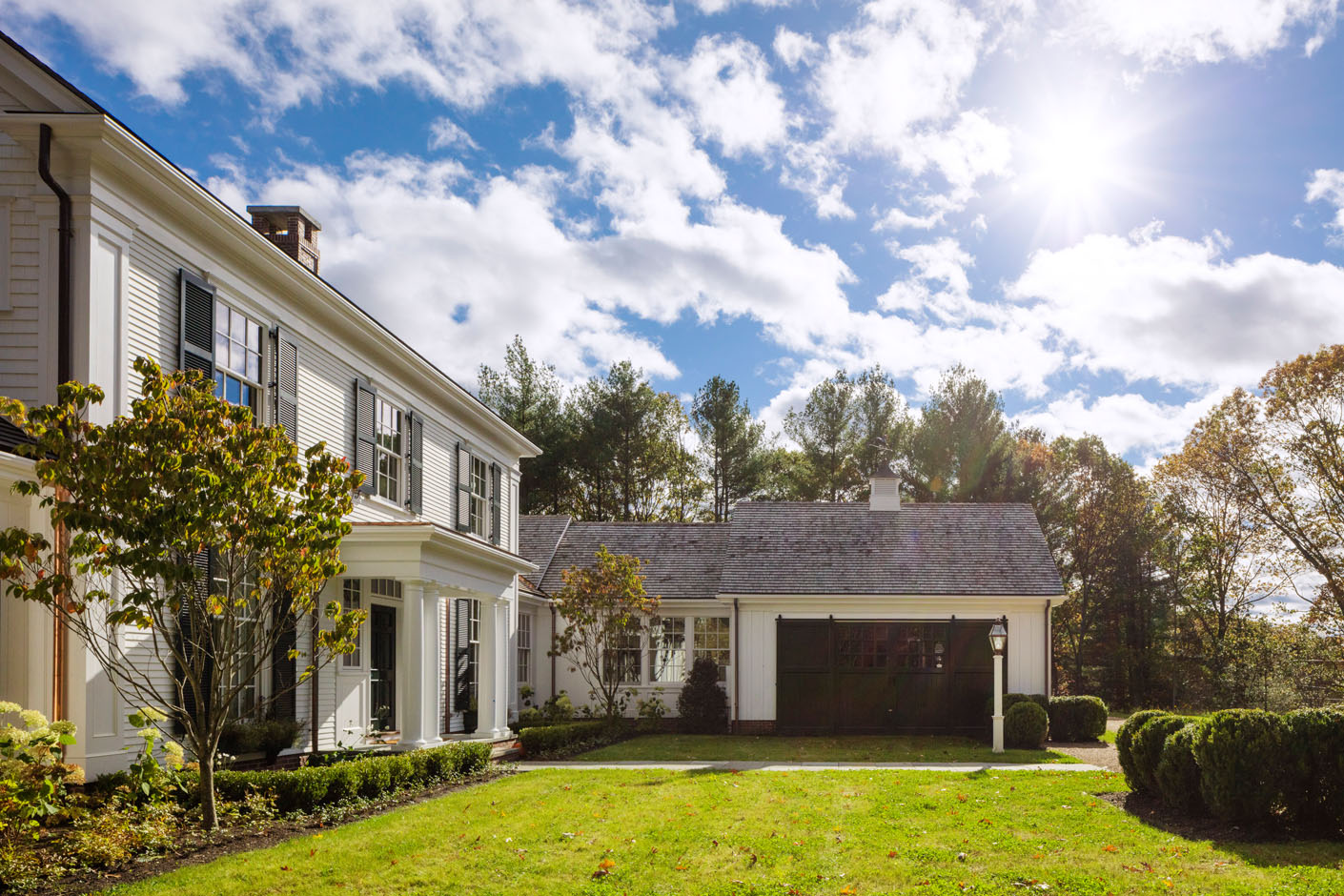 Our Trusted Sources
Most often, our carriage house doors are custom-made by trusted mill shops here in New England. We request pairs of doors that can fit one single car as opposed to doors that can fit multiple vehicles through a single opening side-by-side. If not made custom, trusted partners are Designer Garage Doors and Overhead Door of Cape Cod.